Fairchild Republic A-10 ground-attack jets from the US Air Force (USAF) have arrived in the Middle East, as Washington surges military resources to the region in response to a full-scale war between Israel and the Gaza-based militant group Hamas.
US Central Command (CENTCOM), which oversees Middle East operations, said on 8 October it would deploy additional fighter resources to the region, including A-10s, Boeing F-15s and Lockheed Martin F-16s. A US Navy aircraft carrier loaded with four Boeing F/A-18E/F Super Hornet strike fighter squadrons was also dispatched.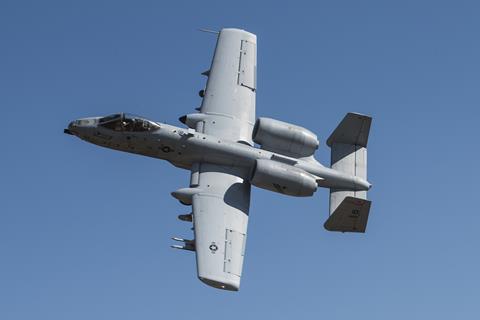 Speaking on the condition of anonymity, a senior Pentagon official confirmed on 12 October that A-10s from the USAF's 354th Fighter Squadron had that same day arrived in the Middle East.
"We are continually adjusting and monitoring our posture in the region to ensure we are positioned in support of Israel's defence," the official says.
The US government has not revealed the specific location where it sent the ground-attack squadron.
The military equipment is arriving just as the USA and other countries are moving to evacuate their citizens from Israel. Canada, Brazil and Poland, the UK and the USA have launched repatriation efforts.
The Pentagon says its "rapid increase in posture" around the Middle East is intended communicate Washington's "unequivocal" support for the defence of Israel – and to deter governments or non-state actors from escalation.
The show of US force comes as Washington's top defence official – defense secretary Lloyd Austin – arrived in Israel on 13 October for meetings with that country's prime minister Benjamin Netanyahu and its defence minister Yoav Gallant.
The USA's top diplomat – secretary of state Antony Blinken – also travelled to Israel.
While US military aircraft are not actively supporting the Israeli Defense Force's (IDF's) campaign in Gaza, the Pentagon is providing materiel assistance, including munitions for Israel's Iron Dome missile-defence system.
"We're surging additional military assistance, including ammunition and interceptors, to replenish Iron Dome," US President Joe Biden said on 10 October. "We are going to make sure that Israel does not run out of these critical assets to defend its cities and its citizens."
The White House says 27 Americans died during the 7 October attack by Hamas against Israel, with at least 14 more still missing.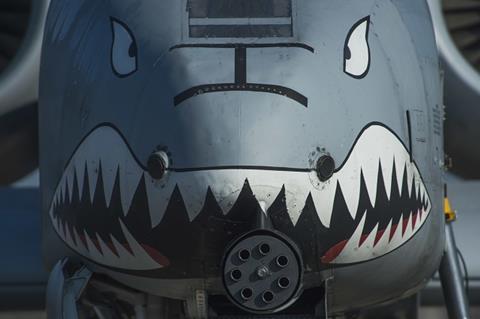 The unexpected need for military support to Israel has raised concern about the ability of the US defence industrial base to adequately meet demand, on top of supplying munitions to Ukraine.
"We are capable of supporting Ukraine and Israel in their hours of need," the defence official says, noting that the USA is consulting with Israel to assess the IDF's requirements. "We are working with them on all available kinds of ammunition to respond to their needs."
Senior US Army officials faced similar questions at the recent 2023 Association of the US Army conference in Washington.
General James Rainey, commander of US Army Futures Command, noted on 9 October that the US Army has two Iron Dome batteries of its own, along with missile ammunition for those systems.
However, army secretary Christine Wormuth, the service's top civilian official, says the army will need additional funding from the US Congress to support both Israel and Ukraine simultaneously.
"In terms of our capacity to expand production, and then to also pay for the munitions themselves, we need additional support from Congress," Wormuth said on 9 October.
Israeli defence minister Gallant on 13 October confirmed munitions have already begun arriving.
"Today we will receive the second aircraft carrying essential munitions to the IDF," Gallant said at a joint event with secretary Austin.