The US State Department plans to partner with airlines in launching a repatriation flight programme to evacuate US citizens from Israel amid that country's escalating conflict with Hamas.
"Starting Friday, October 13, we will arrange charter flights to assist US citizens and their immediate family members who have been unable to book commercial transit and seek a safe means of departing Israel," the State Department said in a 12 October post on X, formerly known as Twitter.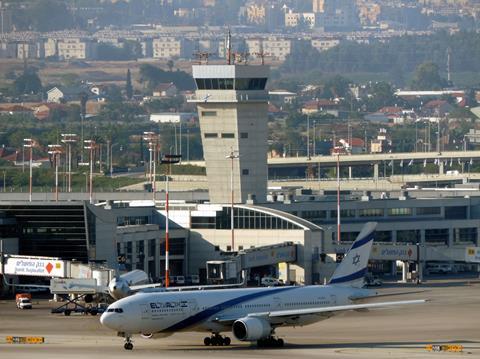 Details remain unclear, including whether the US government hopes US airlines will actually fly into Israel, or whether the government will operation such flights. Some airlines say their participation involves flights to Athens.
The State Department's post says that, from undisclosed "locations, individuals will be able to make their own onward travel arrangements to the destination of their choice. These initial transportation options will be augmented in the coming days."
US officials are "actively working with airline carriers and international partners" on how to provide citizens options to leave the country. The UK announced a similar repatriation programme earlier in the day.
United Airlines said on 12 October that it added flights between Athens and Newark and capped fares, while its flights to Tel Aviv remain suspended. In addition, United's regular schedule includes one daily flight each to Washington-Dulles and Newark from Athens.
"We're in close touch with the US State Department as it seeks to add additional options for Americans traveling from the region," United says.
Delta Air Lines says: "We are partnering with the US government and setting up flights to get US citizens home." It too will operate those out of Athens.
"Right now we are looking at providing some additional lift to Europe but we have no plans to be flying into Israel," chief executive Ed Bastian said earlier in the day. "It is considered unsafe for US aircraft to be operating in that airspace currently."
According to Cirium, Delta usually flies to Tel Aviv from Boston, Atlanta and New York's John F Kennedy International airport.
American Airlines says it "working closely with the US Department of State to support those in need of travel from Israel to the US". The airline says it has "seats available" from European airports, it will coordinate with government officials on "any additional capacity needs" and would consider operating larger aircraft or more flights.
Since the surprise attack on Israel last weekend by Palestinian militant group Hamas, several countries have sent civilian or military aircraft to Tel Aviv to bring citizens back to their home countries. Swiss International Air Lines, for example, operated four repatriation flights in recent days. The Polish and Brazilian militaries also conducted evacuation flights.
American citizens looking to return to the USA have complained online that flights departing Tel Aviv have been completely booked or that airfares are expensive due to the soaring demand to leave the country.
Updates on 12 October to add a statement from American Airlines.