US-based ultra-low-cost carrier Allegiant Air reports that delivery of its first Boeing 737 Max aircraft has been delayed until next year.
Chief executive Maurice Gallagher confirmed the shift during parent company Allegiant Travel's 2 November earnings call, saying, "Our first Max 8-200 is scheduled for delivery in early 2024".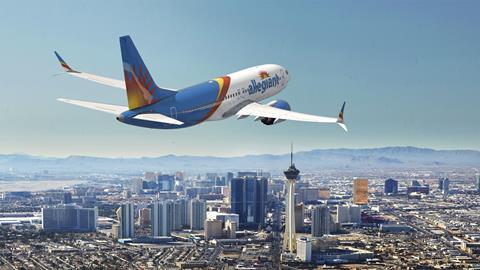 The Las Vegas-based carrier said in August that delivery delays had pushed arrival of its first two Max jets back by about a month, but that it still expected to take the first one before year-end.
In October, Allegiant amended a January 2022 deal with Boeing that included orders 50 737 Max jets and options for 50 more. The carrier added options for 30 more 737 Max and changed the mix of 737 variants it plans to acquire.
"The amended agreements reflect a revised delivery schedule with the first delivery due under the amendment in late 2023 and the delivery schedule for the initial 50 aircraft to now extend through late 2025," the carrier said at the time.
But Allegiant's first 737 Max appears to have been delayed as Boeing has since trimmed its 737 delivery forecast. The Arlington, Virginia-based company now expects to deliver 375-400 737s this year, down from its previous goal of 400-450.
Allegiant now operates an all-Airbus fleet of A320-family aircraft but says it will benefit from mixed-fleet operations and that it is highly anticipating its first Boeing narrowbodies.
"This aircraft will strengthen our flexibility by providing more diversity in fleet composition further enabling us to deploy the right gauge aircraft in the right markets at the right times," the company says.
"Our Max fleet will have premium seating of just over 50 of our 180 seats and improve our economics in the coming years," Gallagher adds.