JetBlue Airways expects six of its Airbus A321neos to be grounded by Pratt & Whitney (P&W) engine problems by year-end – and for that number to rise in 2024.
"We'll end next year with a high single-digits, low double-digits number of aircraft on the ground," says Ursula Hurley, chief financial officer of JetBlue.
During its 31 October quarterly earnings call, the New York-based low-cost carrier described how it stands to be affected by P&W's recall of PW1100G geared turbofan (GTF) engines due to disk problems, which has caused broad fleet disruptions among A320 operators.
JetBlue currently has 25 A321neos in service and four in storage, according to Cirium fleets data.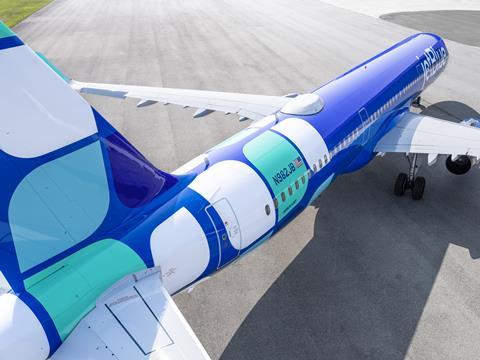 The majority of GTF engines on JetBlue's aircraft were manufactured post-2021, meaning that they were made outside of the production run of engines that currently need inspection.
Ursula notes that a "handful" of JetBlue's GTF engines will need full part replacements.
JetBlue is the latest airline to forecast aircraft availability issues related to necessary inspections of potentially defective GTF engines. Mexican ultra-low-cost carrier Volaris recently disclosed that more than half its fleet could be affected by the recall, while US discounter Spirit Airlines said it anticipates an average of 10 aircraft will be grounded through the end of 2024.
Facing headwinds on multiple fronts, JetBlue is "proactively managing our capacity in light of higher fuel costs and aircraft constraints, and wll temporarily reduce flying in certain markets and in off-peak periods", says chief operating officer Joanna Geraghty.
JetBlue says it is anticipating a forthcoming aircraft service bulletin from P&W that will specify which GTF engines must come off wing. "That is important because it will give a very detailed view of serial numbers and it will solidify what we believe to be our exposure in 2024 and beyond," Hurley says.
Chief executive Robin Hayes says the carrier is "focused on controlling what we can control" as it posted a third-quarter loss of $153 million.