Brazil's Azul earned a R1.6 billion ($319 million) adjusted third-quarter operating profit as passenger and cargo demand remained strong during the traditionally weaker southern hemisphere winter season.
The Sao Paulo-based carrier said on 14 November that its operating revenue during the three months ending 30 September rose to R4.9 billion, up 12.3% from R4.4 billion during the same quarter last year. Compared to the third quarter of pre-pandemic 2019, Azul's third-quarter operating revenue was up 62%.
The airline's operating profit margin expanded to 19.5%, "maintaining our position as one of the most-profitable airlines in the world", says chief executive John Rodgerson. "This strong growth performance was driven by our industry leading operations and the successful execution of our fleet transformation strategy."
Azul's R1.6 billion adjusted third-quarter profit (which excludes interest, tax, depreciation and amortisation) rose 68% year on year from R925 million in the same quarter last year. The airline has only released preliminary adjusted figures, and has yet to disclose its bottom-line financial results.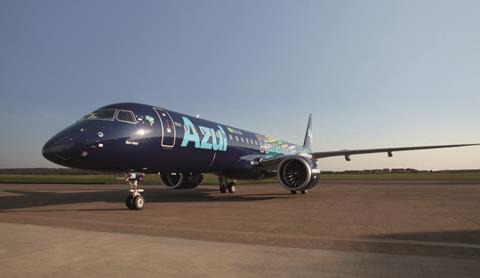 "These numbers speak for themselves and our structural competitive advantage," Rodgerson adds. "These are truly outstanding numbers across the board."
Azul's passenger revenue rose to R4.6 billion, up 12% on last year, while its cargo revenue rose 11% to R335 million.
On the cost side, the company's operating expenses remained flat year on year at R4 billion during the three months thanks to a 33% reduction in fuel price as well as cost-saving measures and productivity gains.
Azul's block hours rose 5.5% while daily aircraft utilisation rose to 10.2h from 9.6h during the third quarter last year. Its capacity as measured in available seat kilometres rose 11% year on year.
Bookings accelerated in during quarter, and are up 30% since June, adds chief revenue officer Abhi Shah, adding that the increase partly reflects seasonality trends. Traditionally, in Brazil, business picks up late in the third quarter, as well as the fourth quarter. Azul experiences its southern hemisphere summer travel peak in January.
"We feel pretty good about the revenue environment," Shah says. Domestic capacity in the fourth quarter will be slightly less than in 2019, "and I think that capacity discipline is going to continue for next year and beyond. Everybody's facing the same issues with fuel going up and down [and with higher] interest rates. The industry overall is very interested in maximising results and focusing on where they are strong."
FLEET TRANSFORMATION
Azul ended the quarter with 181 aircraft, up from 168 during the same quarter last year. Its fleet includes 17 fuel-efficient Embraer 195-E2s, and Azul intends to double that figure by end-2024. It received its first E2 in 2020.
With 18% less fuel burn and 18 more seats than E1s, the E2s have reduced cost per seat by 26%, Rodgerson says. "This transformation will drive significant margin expansion going forward."
Azul says it is less affected by airframe delivery delays than some competitors, as Embraer continues to be able to deliver aircraft more-or-less on time.
"Everybody has their challenges," Rodgerson says. And while the new engines burn less fuel, "they don't stay on wing as long."
"Capacity will be constrained for the foreseeable future until the OEMs fix that," he adds.
The company will receive at least 13 new Embraer aircraft in 2024, "not all on time, but we do have a horizon as to when they are being delivered".
Regarding the Pratt & Whitney geared turbofan (GTF) engine recall that is affecting many Airbus A320-family operators, Rodgerson says that Azul does not currently have any aircraft grounded. All 17 of the company's E2s are powered by a version of the Pratt GTF engine, but its A320s are powerd by CFM's Leap 1A engines.
"We are monitoring [the recall] very closely," he says. "You need to get in front of it, have a proper spare engine ratio. We are a very important customer for both Embraer and Pratt & Whitney and we are in constant dialogue. It's not perfect, we understand that, but we have a good relationship and [are] working very closely to… keep that fleet flying."