Low-cost carrier Norwegian has struck a deal to lease two Boeing 737 Max 8s, several months after emerging from the pandemic as a restructured 737-800-only operator.
Norwegian says delivery of the two Max aircraft will begin shortly and enable it to operate its planned summer 2022 programme of around 270 routes.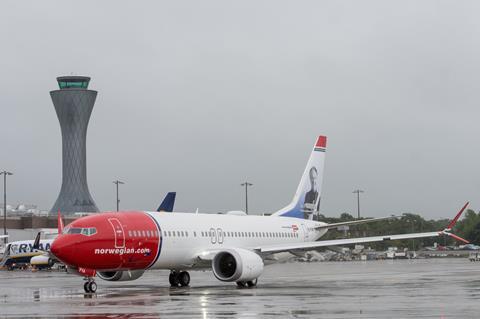 The aircraft are being leased under nine-year terms, which include power-by-the-hour arrangements for this and the next winter seasons.
Chief executive of Norwegian Geir Karlsen says: "This agreement is an important step in Norwegian's plan to build an efficient and modern fleet for the future. The flexibility of 'power-by-the-hour' will allow us to manage our capacity through the low season adjusting for variations in seasonal demand."
The lease agreements also include the option to substitute the Max aircraft with new technology narrowbodies from Airbus.
During an overhaul of its business amid the Covid-19 crisis, Norwegian's fleet consolidation involved the cancellation of order for dozens of 737 Max jets and a decision not to bring back into service its 18 examples that had already been delivered, as it decided to emerge from a "hibernation" period as a 737-800-only operator.
However in detailing in late October preliminary deals to lease 13 737-800s, Norwegian said these included the option to substitute the -800s with either Max or A320neo jets.