Norwegian's intention to exit long-haul services and focus on short-haul and domestic flying as part of its restructuring plan presents its lessors with some certainty for the future at least – if little else.
Under its restructuring plan, the Oslo-based carrier will become an entirely short-haul carrier with 50 narrowbodies in 2021, rising to 70 in 2022.
Cirum fleets data shows that the Norwegian group has 137 aircraft in its fleet, consisting of 35 787s and 102 737s. The majority of its fleet is leased.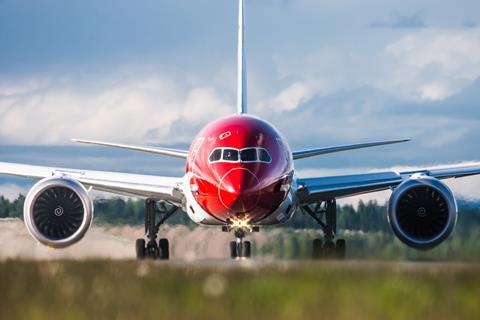 MIXED PICTURE
The prospects for lessors with 737s placed at the Oslo-based carrier are mixed.
One the one hand, there is now certainty that some of the narrowbodies will be retained by the carrier, but given Norwegian's plan to reduce its fleet to 50 this year, around half of its leased 737s are set to be returned, while those that remain are likely to be on reduced leased rates.
Cirium understands that as part of its KPMG-administered examinership in Ireland, Norwegian has presented its 737 operating lessors with a proposal to keep the aircraft with a 10-20% cut in the lease rates.
"I would say the lessors would bite their hand off for that [lease rate] at the moment," one leasing source tells Cirium. "The lease rates were typically quite high on those Norwegian planes, I think they were all in the mid-$300,000s per month.
"So if you look at your fleet and you've got six- or seven-year 737-800s you can probably get an extension on that [contract]. If you take a 20% haircut you still getting mid- to high-$200,000s. If you placed that [aircraft] in the market today you would be getting $150,000 for it."
The source adds that with Norwegian's restructuring efforts under way, lessors would likely even be willing to place more 737-800s with the low-cost carrier, given the lack of demand elsewhere in the market.
"They've [Norwegian] got rid of their onerous lease agreements; they've sorted out their debt; their balance sheet has been cleaned up; the equity has been given away and it's useless.
"They've now got a nice 50-aircraft model, domestic and Northern Europe. The government look like they might reconsider some support level to it."
Cirium fleets data shows that FPG Amentum has 11 737s placed with Norwegian, while ICBC Leasing has 10. Jackson Square Aviation Ireland has eight, SMBC Aviation Capital six and Mitsui & Co five.
DREAMLINER EXPOSURE
Lessors with 787 exposure to Norwegian face greater challenges.
A total of 24 of the 787s are leased. Those with significant exposure include AerCap, which has nine 787s placed with Norwegian: six 787-8s and three 787-9s. BOC Aviation also has six Dreamliners with the group, Avolon three, and MG Aviation four.
Cirium understands that Norwegian believes it has reasonable prospect of selling its 11 owned 787s over a period of time.
But one leasing source warns that the market for widebodies such as the 787 is "soft", making remarketing of the aircraft potentially difficult.
"There is also quite a number of 777s roll-offs and a number of [Airbus] A330s grounded since pre-Covid, as well as a number of HNA A350s stored in southern France.
"[It's] quite a challenge to place widebodies in the next two to three years, plus Airbus and Boeing are still pushing a number of new 787 and A350 deliveries," the source adds.
Norwegian's decision to exit long-haul services will have come as little surprise to lessors who have had months to plan where to rehome their 787s.
In November 2020, AerCap chief executive Aengus Kelly said that two of the 787s placed with Norwegian had already been leased to a new carrier while the others were being remarketed.
Cirium on 13 January reported the return to AerCap of a 787 which is scheduled to be placed with Italy's Neos.
Norwegian became majority-lessor-owned in 2020 under its debt-for-equity programme, with AerCap and BOC Aviation emerging as the biggest shareholders. Those lessors have since sold down a portion of their holdings.
The carrier's intention to raise a further NKr4-5 billion ($470-588 million) in new capital through a fresh rights issue will further dilute the lessors' holdings in the carrier, unless they decide to participate in it.
One result of the fleet restructuring is that some lessors will likely become creditors/shareholders only to Norwegian, rather than suppliers, eliminating a conflict of interest.
Another source cautions that what Norwegian has presented today is a restructuring proposal and will still need to be accepted by a portion of the airline's creditors to be implemented.
This analysis is written by Oliver Clark, part of Cirium's London-based reporting team