In 2018, Virgin Galactic lost $138 million. Last year it burned through $211 million, and so far this year, in the half to end-June, it is on an even steeper trajectory: $123 million in the red. In the decade and a half since start up, capital investment has gone north of a billion dollars and the operation has delivered two fatal accidents, including a total loss in flight.
Revenue, all this while, has been a few single-digit millions per period, for engineering services.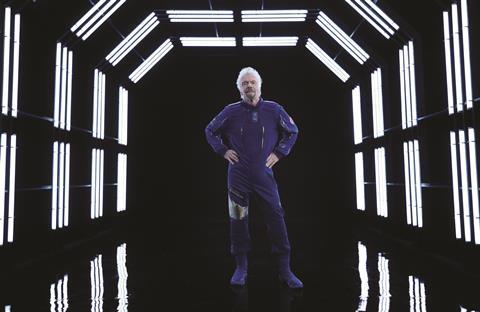 In mitigation, the suborbital space tourism arm of Richard Branson's Virgin Group empire has been spending heavily to ready a second spaceship and make test flights to space — one in late 2018 and another early in 2019. Further trials slated for this year could lead to, more than a decade behind original plans, a flight carrying Branson in 2021 followed — finally — by flights for fare-paying passengers.
If all 600 of the "astronauts" who have signed up to fly — ticket price about $250,000 — actually get their few minutes' weightless view of the Earth, total revenue might reach a mere $150 million. The rate of operations remains to be seen, but at six passengers per flight it will take years to turn the backlog into income. Actually flying may of course help boost sales, but the whole enterprise looks to be orbiting a financial black hole.
Or is it? The crazy thing is, Virgin Group back in May was able to raise $366 million of much-needed cash by selling shares in Galactic. Since opening in New York last October at around $12, shares peaked close to $40 early this year and are now losing ground in the low-$20s, a direction of travel not much changed by the announcement last week of a programme to develop a supersonic aircraft. In today's financial environment, those numbers are neither impressive nor alarming. Stock markets have been throwing up surprises for a couple years; expectations of a severe downturn long predated this year's pandemic shock, and the low inflation, low interest rate background left from the 2008-2009 financial crisis has created a high-risk/low-return investment environment.
So it's no surprise to see keen interest in capital investment or shareholding in a company like Virgin Galactic. Investors are flush with cash and willing, even eager, to risk long-term bets on home runs — or (not quite) moonshots.
Still, those investors cannot be expecting to profit much from space tourism or, given its history of burning cash, from multi-Mach air travel. And meanwhile, other Virgin Group businesses — airlines, gyms, cruise holidays — suddenly look overstretched or out of tune with a new reality. But if the Galactic exercise looks like pouring good money after bad, perhaps investors in an aerospace industry desperate for good news still believe in one truism: Richard Branson-Virgin is a brand to bet on.