Launching its "Plan Aero" in early June, the French government was clear that its support for the country's aerospace industry was conditional on achieving ambitious targets for green aviation.
While the biggest savings in carbon dioxide (CO2) emissions will come from cleaner fixed-wing commercial aviation, Airbus Helicopters, the country's rotorcraft champion, will also benefit from the total €1.5 billion ($1.7 billion) research and development funding available.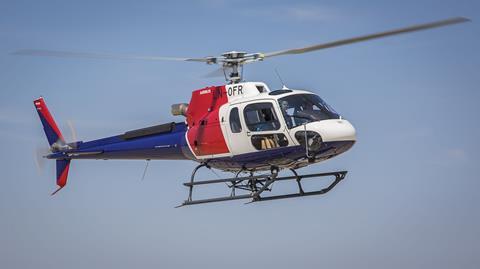 One of several key projects outlined in the plan is the development of a successor to the airframer's best-selling H125 light-single.
While no-one can dispute the Ecureuil's sales credentials, the rotorcraft has been in service since 1975 and despite its continuous evolution, a replacement is arguably overdue.
According to the economy ministry's timeline, a demonstrator of the successor helicopter should arrive in 2029, delivering a 40% fuel-burn saving over the current standard. A hybrid powertrain should be available initially, with hydrogen power to arrive later.
But anyone expecting to see a revolution in electric or hybrid propulsion incorporated on the next-generation helicopter is likely to be disappointed. Instead, what is likely to be developed, at least initially, is a lighter, sleeker helicopter featuring next-generation rotors and a much more efficient conventional engine.
As Tomasz Krysinski, head of innovation at the Marignane, France-headquartered manufacturer makes clear, that 40% cut in fuel consumption will be delivered by numerous "techno-bricks" unrelated to electric power.
There are, he says, three main areas of focus: aerodynamic improvements – both of the rotor and airframe; mass reduction – for example, through new manufacturing techniques and materials; and improvements to the thermodynamic cycle of the gas turbine engine.
Maturing these foundational building blocks is vital ahead of any form of electrification, he argues: "We really need the energy needs [of the aircraft] to be as low as possible; drag reduced by 30%, for example."
No H125 replacement programme has been officially launched, therefore any techno-bricks will be first proved out on one of the manufacturer's demonstrators; as an illustration of the process, Krysinski points to the recent arrival of a new H145 variant with a five-bladed main rotor, the upgraded component having debuted on its BlueCopter demonstrator.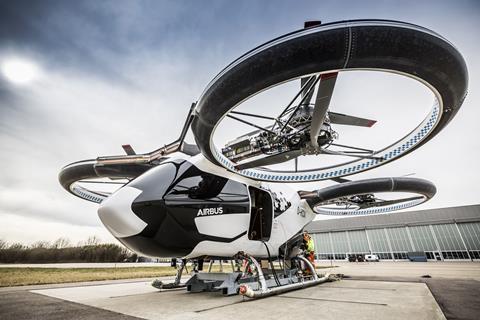 Swapping out the current turboshaft engines for an electric or hybrid powertrain also has its difficulties.
Krysinski says that full-electric aircraft will be reserved for short-range – around 27nm (50km) – applications. Towards that end, the airframer is developing its CityAirbus electric vertical take-off and landing (eVTOL) demonstrator.
Currently in the early stages of flight testing at its Donauworth, Germany base, the 2.2t maximum take-off weight design uses a 1MW powertrain to enable a useful load of 400kg (880lb), or four passengers.
It is, says Krysinski, the "only real eVTOL in the world where the mass and construction really allows a useful load."
But Krysinski is adamant that due to the power requirements of conventional helicopters, "fully electric is for short distance and hybrid is for bigger sizes".
Bear in mind, however, that the phrase "hybridisation" does not simply refer to the addition of a new type of powertrain, but covers a variety of innovations. These range from emergency back-up batteries to the planned "ecomode" on twin-engined helicopters where one turboshaft can be stopped during cruise and then restarted quickly using a high-voltage system. This will be introduced on the Racer high-speed helicopter being developed as part of the EU's Clean Sky 2 programme.
Airbus Helicopters will test the emergency back-up system next year on an H130 light-single demonstrator, adding a 40kg battery and electric motor to provide a planned 2min of power in the case of engine failure.
"It makes a helicopter safer. We tested [a smaller system] already two years ago, but since then electric motors and batteries have made much bigger progress," says Krysinski.
Aside from the obvious benefits in an emergency, the additional safety margin available should enable the helicopter to be certificated to carry additional payload – essentially an extra passenger.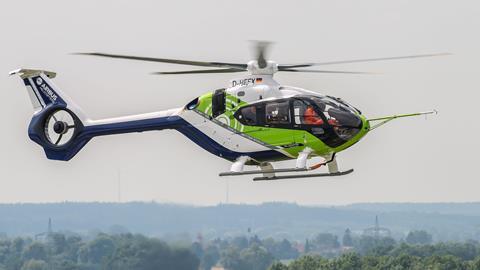 That is not to say that the manufacturer sees electrification as for emergencies only: Krysinski believes that new power systems could deliver an additional 10% saving in fuel consumption on top of the 40% from improvements elsewhere.
"Our ambitions are quite wide to reduce fuel burn by 50%. We want to propose a concrete application by the end of the decade," he says.
"We were the first to put a turbine on a helicopter and we want to be the first to dramatically cut fuel burn."
But further out, other energy sources will be required to deliver significant improvements in emissions.
"Hydrogen could be the grail for CO2-free flights," says Krysinski, whether that be in fuel cells, or as a fuel itself. However, despite its energy density, hydrogen is not without its challenges, notably safety and storage, which are particularly acute for smaller, power-hungry aircraft like helicopters.
While not directly connected to propulsive or aerodynamic improvements, recent tests conducted using a Lidar obstacle detection system give some insight into one of the airframer's guiding principles for any technology research: cost effectiveness for the end user.
The effectiveness of the sensor has been proven during flight trials and Airbus Helicopters will now work on real-world applications for the technology.
"The difficulty is not to make it, but to make it in an affordable way. That is what we are fighting for," says Krysinski.