Italy and Austria are to co-operate on the procurement of Leonardo Helicopters AW169Ms following an agreement between their respective defence ministers.
Under a letter of intent signed on 16 November, the pair are to collaborate on the AW169M Light Utility Helicopter (LUH) programme, with the type selected by both nations.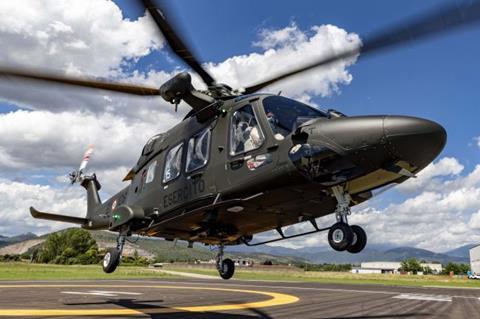 Italian defence minister Lorenzo Guerini says that the pact will enable "ever greater interoperability" between the armed forces of the two countries.
No details of how the co-operation will work have been released, however, although it is thought the agreement relates to a government-to-government sale of the Italian-built helicopters.
Vienna in September announced that it would acquire 18 AW169M LUHs for €300 million ($356 million) to replace its fleet of obsolete Aerospatiale Alouette IIIs, which will be phased out by 2023. Deliveries of the new rotorcraft will begin in mid-2022.
Leonardo edged out rival offers from Airbus Helicopters and Bell with their respective H145M and 429 platforms.
Italy has signalled its intention to buy an initial batch of AW169Ms for its army: two UH-169B trainers and 15 LUHs. In addition, a further five examples will be taken by the Carabinieri. All are equipped with skids rather than standard wheeled landing gear.
Although the initial agreement covers just 22 examples Rome has a much broader requirement as it seeks to replace a large fleet of Agusta and Agusta-Bell rotorcraft.
An initial UH-169B was handed over in July.
The fourth and fifth paragraphs have been edited to add in additional detail