Autonomous defence technologies start-up Anduril has acquired uncrewed aircraft developer Blue Force Technologies, with an eye toward the Pentagon's surging interest in autonomous combat aircraft.
California-based Anduril on 7 September said it had purchased Blue Force for an undisclosed sum. Blue Force designs and manufactures high-end composite aircraft and their components in the US state of North Carolina.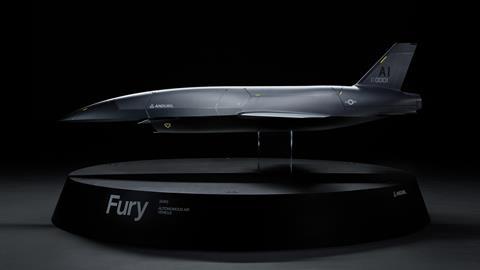 The primary motivation for the acquisition, according to Anduril, is to expand its aviation portfolio to include large unmanned aerial vehicles (UAVs).
"This transaction will expand Anduril's existing autonomous fleet to now include large high-performance Group 5 aircraft, and [it] significantly increases Anduril's reach and impact within the Department of Defense," Anduril says.
Group 5 of the Pentagon's UAV classification framework encompasses the largest examples of uncrewed aircraft. These are typically designs weighing more than 600kg (1,320lb) and capable of operating above 18,000ft.
Examples of Group 5 aircraft include the General Atomics Aeronautical Systems MQ-9 Reaper, Northrop Grumman RQ-4 Global Hawk and Kratos XQ-58 Valkyrie.
While remotely piloted UAVs focused on intelligence collection and air-to-ground strikes have been in service for two decades, the Pentagon is seeking to rapidly field thousands of pilotless, jet-powered aircraft capable of teaming with piloted fighter jets for a variety of combat missions.
The Kratos Valkyrie and Boeing's MQ-28 Ghost Bat are prominent examples of the concept. Blue Force has been developing a similar Group 5 design – called Fury – since 2019.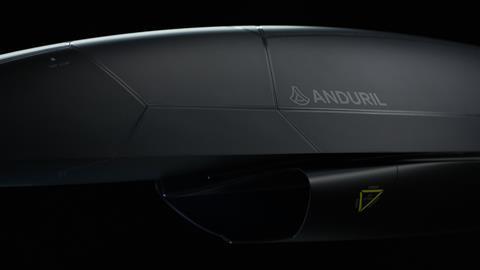 "Fury leverages proprietary rapid prototyping, digital engineering and an open architecture that is designed to deliver next-generation flight performance with the flexibility to integrate heterogeneous sensors and payloads to support air dominance missions," Anduril says.
The company also released photos of a half-scale Fury model, now complete with Anduril branding.
Blue Force recently completed flight testing of Fury's operating software using a stand-in simulator aircraft and ground testing on the autonomous jet's carbon-fibre-composite propulsion flow-path system.
Anduril says it will make "significant investments" to continue developing Fury, with an eye toward the collaborative combat aircraft concept envisioned by the US Air Force and US Navy.