Air France Industries KLM Engineering & Maintenance is building up Airbus A220 support capabilities because it sees an opportunity to establish itself as the first airline MRO provider to offer nose-to-tail services on the new-generation aircraft.
In September, Air France is scheduled to receive the first of 60 A220-300s it ordered in 2019. The French flag carrier additionally took 30 options and 30 acquisition rights for the Pratt & Whitney PW1500G-powered twinjet, which entered service – under its original Bombardier CSeries branding – in 2016.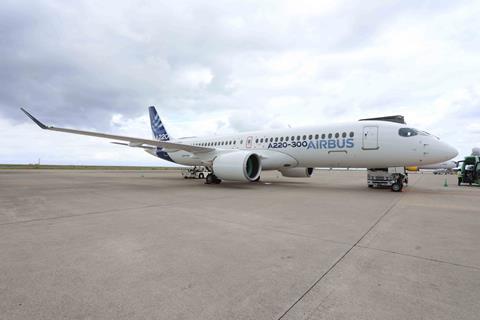 AFI KLM E&M vice-president component product Benjamin Moreau tells Cirium that the MRO provider sees a growing market for A220 support services "in all the regions" over the next decade. He describes the A220 as "one of the most resilient aircraft types" amid the pandemic and predicts it will play a key role for many operators in the post-Covid world.
Cirium fleet data shows that out of 163 A220s, some 32 – 13 A220-100s and 19 -300s – were listed as being in storage on 24 May. In addition to the delivered aircraft, Airbus has secured 494 orders, 130 options and 167 acquisition rights for the two models.
Among the type's largest operators are Air Baltic, Air Canada, Delta Air Lines, EgyptAir, Korean Air and Swiss, while the largest order holders include Air France, US start-up Breeze Airways, JetBlue Airways and various lessors.
OPERATIONAL EXPERIENCE
Like other airline-affiliated maintenance companies, AFI KLM E&M views the operational experience it gains through its parent carrier as a differentiator from pure MRO and OEM aftermarket service providers. "We believe there is a need from airlines worldwide to have an airline MRO providing solutions on the A220," Moreau says. "Nobody is on the [A220] market with that kind of knowledge and added value for airlines."
Moreau acknowledges other MRO providers affiliated with A220 operators have made inroads in establishing support capabilities for the aircraft. Delta TechOps services PW1500Gs as a P&W aftermarket network partner – a role AFI KLM E&M is in the process of establishing for its engine shop in Orly – while Lufthansa Technik supports PW1500Gs at its regional engine shop in Alzey.
The German provider is additionally building up the capability at dedicated, Poland-based PW1000G overhaul provider EME Aero, jointly owned with P&W partner MTU.
However, AFI KLM E&M's Moreau argues that no other airline MRO provider offers a full range of A220 services today. AFI KLM E&M will conduct airframe checks for its parent fleet and does not rule out such services could be offered to third-party customers. "Let's see how the market evolves on that," Moreau says. But the MRO group's third-party business is mainly focused on more lucrative component and engine services. Moreau sees a particular opportunity in offering component services in combination with predictive maintenance solutions based on the experience of operating A220s and of developing analytics for other types.
While predictive maintenance had been a hot topic for some time before the pandemic, Moreau believes that demand for smart MRO services that promise to increase aircraft reliability through targeted maintenance action will be especially high in the post-Covid environment. He says AFI KLM E&M is in talks with several airlines about developing such solutions for A220s.
In addition to airframe components, AFI KLM E&M wants to service auxiliary power units (APUs) and nacelles. Earlier this year, the MRO provider disclosed that its Dutch subsidiary Epcor will service the A220's Honeywell APU, and that AFI KLM E&M will establish a joint venture with US aerospace manufacturer Triumph to overhaul "new-gen" nacelles for customers based in the Americas.
Partnerships that AFI KLM E&M previously had with Collins Aerospace, Honeywell, Liebherr, Meggitt and Parker are being extended to cover A220 equipment, Moreau says. And new partnerships have been developed too – the PW1500G will be the first, modern Pratt & Whitney engine AFI KLM E&M will service at its overhaul shop aside from Engine Alliance GP7200s, which the US manufacturer jointly produced with GE Aviation as an option for the Airbus A380. Air France-KLM has been a long-standing customer of GE and its CFM International joint venture with Safran.
For Embraer's E-Jet family, which both Air France and KLM operate at their regional subsidiaries, AFI KLM E&M opted to provide component support through its Spairliners subsidiary. The German-based company – jointly owned by AFI and Lufthansa Technik – was originally established in 2005 to pool resources for the support of A380 components at their parent carriers and third-party customers, against a backdrop of costly spare parts and the relatively small global fleet for the type.
In 2013, Spairliners' remit was expanded to the E-Jet family despite the aircraft's comparatively large operator base and installed fleet. Like the A380 at the time, the E-Jet family is being operated by both Spairliner parents.
Moreau says AFI KLM E&M decided to independently support A220 operators mainly because it sees sufficient market volume to make the necessary investment to support the aircraft, but also because the MRO provider could develop the required technical capabilities quicker on its own initiative.
He says that while AFI KLM E&M considered supporting A220 via Spairliners as an option, he suggests such an effort might not have been equally shared between the joint venture's parents. "When you build up partnerships, you look at what the other partners can bring to this partnership; what is the baseload; what is the market; what are the capabilities that are brought by the parties… You always look at all those combinations and make your choice."
Lufthansa Group carrier Swiss operates the A220, but the airline opted to maintain it through Bombardier's component support programme when the aircraft entered service in 2016.
A220 VERSUS EMBRAER E2
Moreau reveals that AFI KLM E&M decided not to develop support capabilities for second-generation E-Jets – the A220's main competitor – even though KLM Cityhopper introduced E195-E2s earlier this year. The carrier has a total of 25 E195-E2s on order to replace earlier, first-generation E190s in its fleet that also includes first-generation E175s. The decision against E2 support capabilities was made because AFI KLM E&M sees fewer MRO prospects for the re-winged and re-engined aircraft than the A220.
Cirium fleets data shows Embraer has delivered 39 E2s to airlines, of which seven were listed as being in storage on 24 May. The Brazilian airframer has secured another 166 orders, 52 options and 265 purchase rights for the E2 family.
Moreau says that while E2s have "some commonality" with first-generation E-Jets, providing support for the E2 generation would require building up substantial new capabilities and spares. He declines to disclose how KLM will support its E2 fleet, but insists the decision not to support E2s in-house will not put Spairliners' operation in jeopardy.
Hamburg-based Spairliners has a "good future" as service provider for the initial E-Jet family, Moreau says. He argues that Spairliners remains a "very efficient" company even though several A380 operators have said they don't see a post-Covid future for the ultra-large aircraft. Air France prematurely retired its entire A380 fleet in 2020.
Meanwhile, AFI KLM E&M is establishing a component pool for its parent's incoming A220 fleet and third-party customers. Several operators have expressed interest in joining the pool, the MRO provider says.
Moreau notes that building up a component pool is a continuous process that depends on the supported fleet size and aircraft age. Starting from a minimum range of required spares when the first aircraft enters service, inventory will be gradually expanded as demand for replacement parts grow. Aircraft reliability data and projections of when equipment will likely need replacement are central to managing spares acquisition and the capital investment for it.
This involves what Moreau describes as a "very dynamic" process of balancing customer service requirements and the cost of putting spares on shelves. "You can always buy a lot of inventory," he says. "But this is not the best way to deliver service to the airlines."
This analysis is written by Michael Gubisch, part of Cirium's London-based reporting team