IAG expects to operate 80% of pre-crisis capacity across this year, which is less than the 85% it had originally targeted after British Airways scaled back its planned flights this summer in a bid to make its operations more resilient.
The European airline group today issued a positive projection for the summer and year ahead, expecting to be profitable from the second quarter onwards based on a strong ramp-up of activities following the easing of many travel restrictions. That will see group capacity jump from 65% of pre-crisis levels in the first quarter to around 80% and 85% in the second and third quarters respectively.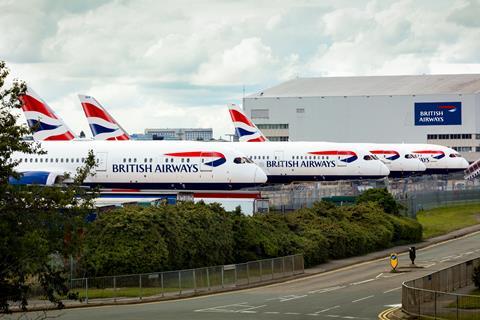 However, a string of operational challenges have hit British Airways services at London Heathrow in recent weeks and have prompted the carrier to moderate its capacity ramp-up plan this summer.
"The original plan for BA at Heathrow was to scale up to 100% of 2019 flights by the third quarter of this year," said IAG chief executive Luis Gallego during a first-quarter results call today. "This is the largest-scale ramp-up ever undertaken by BA."
But following a number of unplanned flights cancellations in late March, BA is now curbing its capacity return plan by cancelling around 60 flights a day – a figure that will "significantly decline" over the summer.
"To put this in perspective, if BA typically operates 270 short-haul and 70 long-haul departures from Heathrow every day, overall cancellations are expected to be around 10% of flights at Heathrow between March and the end of October," says Gallego, adding that the carrier's services from London Gatwick and London City airports are not impacted.
"There have been three key operational challenges: people resourcing, airport capacity constraints and unstable IT systems," Gallego identifies.
He cites the impact the Omicron variant of Covid-19 has had on increased staff absence rates, the tight labour market and more onerous referencing requirements that are now in place as being among labour challenges.
On airport capacity he points to factors including the knock-on effect from the closure of Heathrow's Terminal 4 – which will reopen in June. "The result is BA has 25% few check-in desks and less access to the rest of the terminal than before Covid," he says, while putting the blame for long security and immigration queues on Heathrow planning for an "unrealistically low passenger volume forecast".
These challenges were further compounded by BA having three "IT events" in February and March.
Gallego cites a string of measures the carrier is implementing on top of the flight cancellations to improve the resilience of its operations.
BA chief executive Sean Doyle says operational improvements from these actions are already in evidence. "If I look at the last three weeks we have seen a step-change in operational performance despite the fact we are operating a bigger programme," he says.