The inaugural revenue flight of new Canadian airline OWG has taken off from Toronto's Pearson International airport, headed to Santa Clara Abel Santamaria airport in Cuba.
The airline is a project of Canadian passenger and freight charter carrier Nolinor Aviation, which announced plans to launch the new brand in July, in the middle of the coronavirus crisis.
According to flight tracking website Flightaware.com, flight N5730 left Montreal's Trudeau International airport at 11:11 local time, arriving in Toronto at 12:08 local time. It then left Toronto at 13:23 local time, and is due to land in Cuba about three hours later. It was unclear if the flight from Montreal to Toronto was also a revenue flight or if the aircraft had been repositioned.
An OWG representative confirmed by email this is the airline's first scheduled flight, but further details were not immediately available.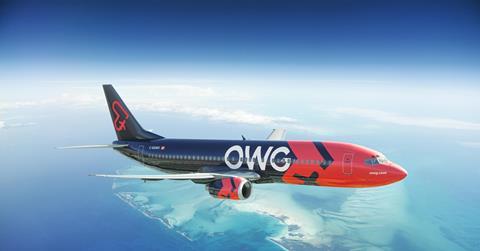 The Montreal-based carrier, which has been operating charter and specialty flights across Canada's far north for almost three decades, said on 7 July that it was looking to take a slice of the holiday travel market from Canada's established market leaders.
Nolinor said at the time that it had acquired several Boeing 737-400s with 158 seats earlier this year for OWG, and on 6 July received permission from the government of Canada to launch international service. The airline had been "secretly working since 2018 to create a new airline that will position them in the tourist flight market". It said it had invested "more than $1 million in a think tank to reinvent the way things are done in this industry".
The result is an airline called OWG, which stands for "off we go".
OWG's planned launch date had been pushed back due to the global health pandemic. Initially, the company said flights would begin on or near 31 August.