The US Department of Transportation (DOT) has published rules that US carriers must follow if they decide to accept government aid as a result of financial difficulties resulting from the global coronavirus crisis.
The DOT says in a show cause order released on 31 March that airlines will be required to conduct minimum service levels "to the extent reasonable and practicable" between now and 30 September as part of the 880-page Coronavirus Aid, Relief, and Economic Security (CARES) Act support passed by the US Congress and signed into law by President Donald Trump last week.
"The order proposes that air carriers receiving financial assistance under the CARES Act maintain minimum air services on a nationwide basis, with some exceptions," the DOT says. The determination will be based upon airline schedules prior to 1 March 2020.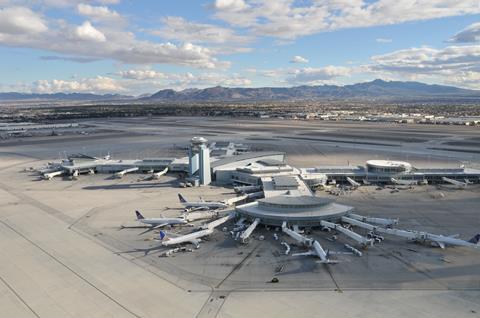 For example, if before 1 March an airline served a US city with one flight per day at least five days per week, the carrier would need to provide at least one flight per day, five days per week, for that point, the DOT says. If it was one flight a day on less than five days per week, the carrier would only need to serve that point with at least one flight on one day per week.
"A covered carrier can also meet its minimum service obligation for a given point by dividing its flights across multiple cities, if it so chooses. If several carriers served a point, each would have to serve the point in accordance with the minimum service levels, regardless of the service decisions made by the other carriers serving that point," the DOT writes.
The DOT also points out that the new provisions do not lift antitrust rules currently in place.
That said, airlines can also request exemptions where it would not be "reasonable or practicable" to maintain service.
On 27 March, the President signed a $2 trillion aid package designed to support distressed companies and employees after the coronavirus pandemic massively disrupted the US economy in the past weeks.
The Coronavirus Aid, Relief, and Economic Security Act has provisions for the air transport industry and its workers to the tune of $58 billion. It includes provisions for passenger and cargo airlines, general aviation, as well as air transport-related employees and contractors who fear for their livelihoods after demand for air travel dropped as the pandemic spread around the world.
The Senate approved the bill on 25 March after about a week of negotiations between politicians of the two chambers.
The measure includes loans to passenger airlines and related businesses ($25 billion), cargo airlines ($4 billion) and business "critical to maintaining national security" ($17 billion).
Aside from loans, the bill will provide "payroll support" of about another $29 billion for passenger and cargo airlines, and $3 billion for contractors like baggage handlers and catering workers. This money must be used for wages, benefits and health care.
Airports will also receive an additional $10 billion, with $100 million going specifically to smaller general aviation airports. The document also provides relief from excise taxes for general aviation commercial operations.