Indonesia AirAsia and Thai AirAsia are the latest among the AirAsia Group carriers to suspend operations, leaving just AirAsia Japan in service.
Indonesia AirAsia will suspend domestic flights until 21 April and international flights until 17 May. Thai AirAsia will halt all domestic services during the month of April, having suspended international flights since 22 March.
Cirium fleets data show that both operators have 90 aircraft in their in-service and stored fleet.

Indonesia AirAsia's grounding will not have a significant impact on Indonesia, as Lion Air dominates the market. Cirium schedules data show that the airline accounted for 4.6% of the country's total seat capacity in February.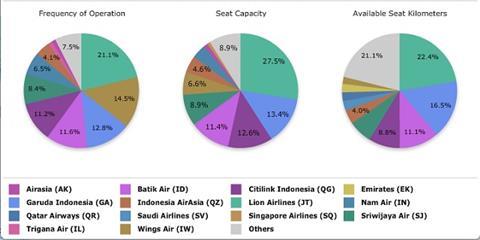 The grounding of Thai AirAsia will have a larger impact on Thailand, as the airline accounts for 19% of Thailand's total capacity in February.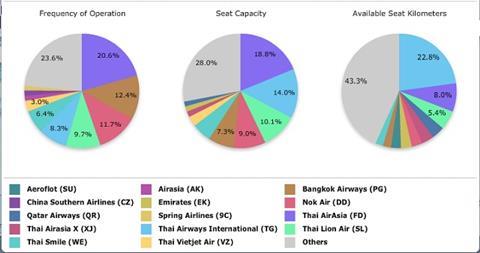 Thai AirAsia's parent Asia Aviation says the airline is implementing cost reduction measures. This includes voluntary pay cuts for management and senior employees, halting non-essential employee travel, and imposing a hiring freeze.
Asia Aviation expects a reduction in Thai AirAsia's variable expenses, which makes up around 70% of its total cost. General administrative expenses could also be reduced through a work-from-home scheme for employees.
To cope with the suspension, the company is building up its liquidity levels. At the end of 2019, its cash on hand and current investments were collectively valued at Bt3.98 billion ($122 million).
It says: "Thai AirAsia also has unutilised revolving credit facilities with banks and has the ability to mobilise the liquidity further by way of the credit facility backed by the remaining no-encumbrance owned aircraft and/or other approaches in the future."
It discloses that a transaction announced in January, for the sale-and-leaseback of nine aircraft and the outright sale of one, has been completed in March, with net proceeds totaling Bt3.6 billion.
Moving forward, Thai AirAsia will not take delivery of any aircraft this year and will study the number of aircraft it needs. The parent company adds that any significant capital expenditures will either be suspended or delayed.