US discount airlines Allegiant Air, Frontier Airlines and Sun Country Airlines have raised objections to a US Department of Transportation (DOT) requirement that airlines maintain minimal services if they accept government aid.
Last week, the US government passed a roughly $2 trillion aid package known as the CARES Act that sets aside almost $60 billion in loans and grants to US airlines and related businesses. But the money comes with conditions that could create financial difficulties for ultra-low-cost carriers (ULCCs) that operate varying networks and already-infrequent schedules, those carries say.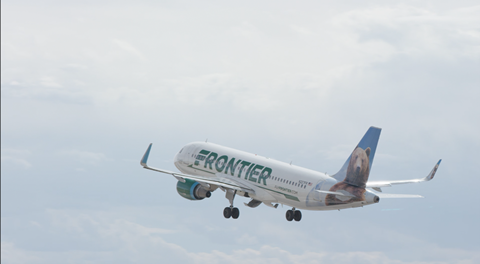 A 31 March DOT order requires airlines that accept government support to maintain a skeleton air transport network, including service to cities already served, even though passenger demand has plumetted due to the coronavirus pandemic. The order bases the service requirements on schedules prior to 1 March 2020.
Now US discount airlines are pushing back, citing the uniqueness of their networks.
The National Air Carrier Association (NACA), which represents ULCCs Allegiant, Frontier, Spirit Airlines, and Sun Country, says on 1 April the order "unjustly discriminates against, and penalises, air carriers that provide seasonal air services".
The arbitrary date of 1 March, says NACA, is not viable for low-cost carriers, which cater mainly to vacationers escaping the colder northern winter weather for warmer destinations in the southern US and Caribbean. The industry group proposes "a more equitable approach to ensure fairness and equity to all air carriers", basing the requirements on April and May 2020 schedules, rather than February schedules.
In its objection to the DOT order, Indigo Partners-owned Frontier says maintaining its routes as mandated, with no or very few passengers aboard, will quickly eat into its reserves, and go against what the government releif package originally intended
"The imposition of minimum service standards as proposed would be fundamentally inconsistent with the policy and objectives of the CARES Act," Frontier writes on 2 April. "It ignores the seasonal nature of Frontier's and other ULCCs' schedules and the efforts of federal, state, and local governments to mitigate the COVID-19 pandemic by banning all but essential travel and ordering people to shelter in place or stay at home."
By using the week of 29 February as a benchmark, the airline says the government ignored the "rapidly changing, unprecedented and precipitous drop in passenger traffic" that resulted from travel restrictions and lockdown orders in many jurisdictions, as well as the fact that its winter schedule looks very different from its summer schedule. The DOT's service obligations extend through September 2020.
Competitor Allegiant says that while it intends to maintain a robust schedule, the airline "must retain the right to cancel, with reasonable notice to customers, flights that have insufficient bookings even to cover the variable cost of operations – specifically, those costs above and beyond payroll, which is theoretically covered by a CARES Act grant for the next two months."
The ULCCs contend that imposing a one-size-fits-all policy for all airlines will put them an undue disadvantage compared to mainline carriers. ULCCs generally operate with lower margins and serve a different audience base.
"Such a service pattern is very different from the traditional daily or more frequent, year-round, and highly predictable service patterns operated by larger major airlines, with many destinations aimed at business travellers," Frontier argues. Frontier serves different cities during winter, meaning its network at the end of February is different than during the middle of the year. Maintaining that winter schedule into April, May and beyond would be detrimental to its business, the airline says.
Frontier gives a concrete example of how the order's effects would counter the law's original intentions. The airline's published flight schedule for April had what it calls a "substantial service reduction" of 193 weekly departures serving 33 airports. In order to comply with the DOT's requirements, Frontier would have to add 460 weekly departures, a 240% increase.
Most of those flights would have unsustainably low load factors, forcing it to unnecessarily burn cash for a business that already has exceedingly low margins.
In addition, Frontier says it is unreasonable to demand connectivity to and from cities and states which have imposed stay at home orders in an attempt to prevent the spread of the virus.
"Operating air service with a crew and perhaps few or no passengers into a state or city under such an order undermines the very objectives those orders seek to accomplish to limit significantly people's movements and interactions," the airline says.
Allegiant adds, "The order, were it finalised without substantial change, would allow Allegiant neither the seasonality nor the frequency flexibility required for it to serve its network without squandering much of the financial assistance it will receive under the CARES Act – a result that would be contrary to the public interest."
Vacation specialist Sun Country says the order would fundamentally change its business model.
"Sun Country… provides service to middle- and lower-middle-class Americans, many from rural, working-class communities, who otherwise would not be able to afford air travel," the airline writes on 1 April. "The proposed order requiring airlines to continue a schedule developed for peak winter travel into the spring disadvantages Sun Country relative to other airlines and forces Sun Country to fly flights now that in prior years, it never would have operated, and for which, there is no demand."