Helicopter joint venture NH Industries (NHI) is prepared to make an offer to Norway to buy its fleet of NH90s for spares donors, in a deal similar to that already presented to Australia, as the airframer attempts to bolster its parts inventory.
Having cancelled its contract for 14 examples of the NH90's NFH naval variant in 2022 and grounded its fleet, Oslo is locked in a dispute with NHI as it seeks hundreds of millions of dollars in compensation.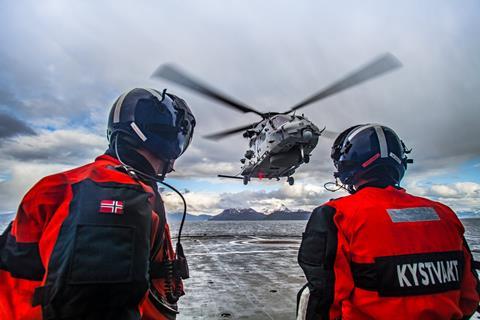 While declining to reveal detail of any talks, Axel Aloccio, president of NHI, says it remains in "open dialogue with Norway" as it seeks "an amicable solution to our dispute".
That solution "might include a buy-back of their aircraft and [spares] inventory", says Aloccio. "It is something we are ready to propose to Norway as well, following a little bit the model of Australia."
NHI is already in negotiations with Australia to acquire its 45-strong fleet of grounded MRH90 Taipans – the local designation for the NH90 – for part-out in a bid to address critical spares shortages globally.
That aim has not changed, despite Canberra's announcement on 29 September that it would retire the Taipans even earlier than planned.
Australia previously intended to withdraw the helicopters from service in December 2024, but a fleet-wide grounding imposed on the back of a fatal crash in July this year will now not be lifted before the retirement date.
While noting that NHI is "disappointed" by the decision, Aloccio says the move will not alter its approach.
"We are anxious to get our hands on those parts and put them back into the NH90 system and make sure those parts are not lost," he says.
Discussions regarding the acquisition of the MRH90s have been ongoing "for weeks", he says, adding: "We are optimistic that we can converge with them on an agreement."
Those aircraft would only serve as spares donors, yielding "high-value parts" on the airframer's Priority Items List (PIL) – components that are either in short supply or have the longest turnaround times for repair.
Aloccio describes the PIL as an "evolving" list of 50-70 items – including main and tail rotor gearboxes, plus radios and radars – around half of which can be sourced from the Australian helicopters.
Dealing with the PIL is part of a three-pronged approach to tackling the time and cost of NH90 maintenance, a long-standing complaint from most operators.
It has seen NHI engage with a core group of 20 suppliers responsible for the PIL shortages – including shareholders Airbus and Leonardo – to implement a "massive recovery plan".
An individual recovery plan has been put in place at each supplier with the goal of doubling production or repair capacity, and as a result, halving the time spent on each item.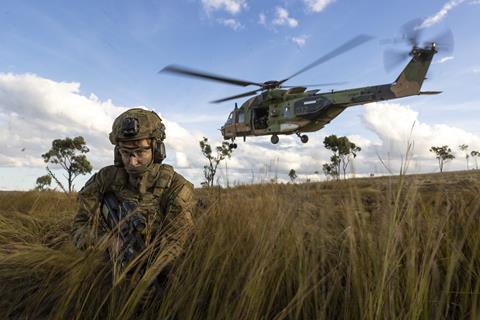 "On some of those items we have turnaround [times] that are absolutely not satisfactory: more than one year. We need to come back to turnaround times which are around four to six months.
"That is basically the target and what is expected by customers and we will be there by the end of next year."
By the end of August, NHI had recorded a 16% improvement over the previous year and will hit 20% by year-end, says Aloccio. While this is behind its 2023 target of a 30% improvement, he is "encouraged" by the progress.
"It shows what we are doing is paying off. We will continue to accelerate next year to reach the target."
Aloccio also hopes that operators will sign up to a "standard exchange" system, where a part from one helicopter can be swapped within 48 hours for one from a global pool of reconditioned items.
Customers have previously been reluctant to agree to such a scheme, preferring to use only parts that have been installed on their own aircraft, but Aloccio sees that attitude changing.
Discussions with operators are ongoing, he says, and is hopeful of gaining sign-off in the first half of 2024. "Most, if not all, are supportive – we are now just waiting for them to answer in writing."
He notes that the agreement of all customers is not required to launch the service: "If we only have eight or 10 nations out of 14 it doesn't matter, we will go anyway."
Gaining access to parts stripped from the Australian or Norwegian airframes will allow this pool to be expanded more quickly, adding to components already purchased by NHI.
Over the past year, NHI has invested €230 million ($242 million) in spare parts, says Aloccio, with those components to arrive from the end of 2024. "Once those are in our inventory, we can sell them to customers or use them to feed the standard exchange service as well."
Although NHI could pin the parts shortages on the lingering after-effects of Covid-19 on the aerospace supply chain, Aloccio thinks the manufacturer should shoulder some of the blame: having "underestimated" the growth of the fleet and flight hours "together with our supply chain we have not properly sized ourselves against the increasing fleet".
NHI's two additional focus areas are around reducing the maintenance burden and increasing the available manpower for those activities.
On the first point, the manufacturer has already extended the inspection interval for the helicopter from 600h to 900h, while the time before overhaul (TBO) for the main gearbox moves from 1,200h to 1,800h.
Several other components – the remote accessory and intermediate gearboxes, plus the main rotor swash plate – will see their TBO intervals extended to 1,800h in early 2024, with the tail gearbox following later that year.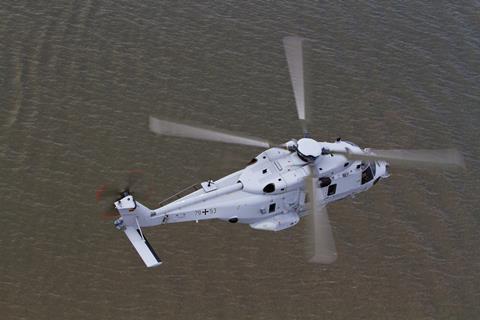 A new Artificial Intelligence-based tool to optimise the maintenance inspection process is also in development, with Aloccio hopeful it can rolled out next year.
Currently being tested by Airbus Helicopters at its Marignane site in France, the results so far are "promising", suggesting a 20-25% reduction in the time taken for major inspections to be achieved.
Additionally, NHI is attempting to build up a network of NH90-qualified technicians that could be made available to customers as required, either bolstering internal teams or helping to "offload" certain maintenance activities.
Technicians could be sourced from within the NHI consortium partners – Airbus, Leonardo and GKN/Fokker – or from third-party MRO providers like Finland's Patria and Sabena Engineering in Belgium.
"We are trying to see how we can make use of the resources that they have and also possibly extend their resources in order to be able to offer those services to our customers," he says.
But despite Aloccio's efforts over the last year – he was made president of NHI in September 2022 – average fleet availability continues to hover stubbornly around the 40% mark.
He admits there not been "much change" over the past 12 months, pointing to a lag between "the actions that we take and the first results that we see".
"We do not see yet a huge improvement in fleet availability levels," he adds. "But what has changed significantly… is that all these actions are being implemented and are being recognised by our customers; they see the efforts we are making and see that we are doing the right things."
However, he points out that fleet availability is not a metric directly monitored by NHI, given the range of factors that can affect it which are outside the company's control.
But he adds: "If everyone does their part, things will improve in the next year."
There is more tangible progress, however, on the pace of a retrofit programme to bring early-build NH90s to the latest standard.
In 2022, just 11 upgraded examples were handed back to customers, but this year NHI is targeting a total of 23-24 helicopters; at the end of September, the 12th unit of the year was completed.
Aloccio says the retrofit programme will remain at that rate over the coming years. "2023 is really the year when we are ramping up – it doesn't mean that everything has been solved but we are giving back helicopters at a much faster rate."

Dominic Perry is deputy editor of Flight International but also contributes extensively to flightglobal.com. Although specialising in the coverage of the helicopter industry, he has written on most topics in aerospace – be they commercial, defence or business aviation. In addition, there has been an increasing focus on the decarbonisation of the industry and zero-emission flight initiatives.
View full Profile