When Bristow secured the UK's newly privatised search and rescue (SAR) contract with the Maritime and Coastguard Agency (MCA) in 2013, there was some scepticism about the merits of a commercial organisation supplanting services the Royal Navy and Royal Air Force had carried out for decades. Indeed, the public had a particular affection for the distinctive – if ageing – yellow and grey/red Westland Sea Kings, whose intrepid crews plucked sailors from stricken vessels and injured climbers from perilous mountainsides and carried them to safety.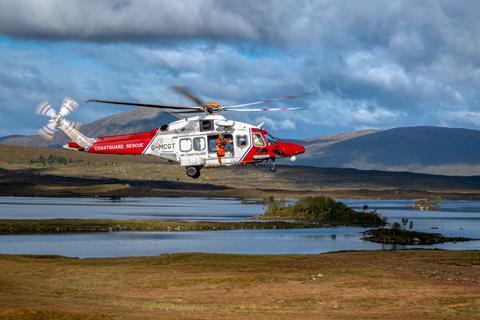 However, 10 years and a flurry of initiatives later, Bristow has proved the naysayers wrong. The company has introduced comprehensive safety management systems, new aircraft and support equipment, and new and upgraded operational bases. It has also invested in the upskilling and training of air crews, technicians, and support staff.
The company's efforts to effect such change and drive efficiency and performance, were rewarded last year with the award of a new 10-year contract with the MCA, a transition period to which begins in 2024. Bristow will work with fixed-wing provider 2Excel and Nova Systems as key subcontractors to this service.
Search and rescue (SAR) operations had been a small but important part of Bristow's portfolio since the 1970s. However, the MCA contract deal was pivotal for the then-65-year-old business, which has gone on to win government services contracts with the Republic of Ireland, the Netherlands, and the Dutch Antilles. Bristow also commenced operations in the Falkland Isles in 2022, after acquiring the company responsible for SAR and transport operations in the UK South Atlantic territory.
The award of the UK contract in 2013 propelled Bristow in a new strategic direction. It meant "mobilising the business from within", says Government Services director Neil Ebberson, who joined Bristow in 2014 to lead the SAR project. "It was an extremely challenging programme to deliver but we did so through a lot of hard work, focus and commitment from both the UK teams involved as well as the wider Bristow"
The existing SAR contract saw Bristow initially operate Sikorsky S-92 aircraft in Sumburgh in Shetland and Stornoway on the Isle of Lewis, before adding eight further bases around the UK, with a fleet of Leonardo AW189s joining the S-92s. Bristow's team of pilots, paramedics, winch operators and support staff are responsible for providing first-line response over some 20,000km of coastline around the UK, as well as all of the mainland, including mountain ranges such as the Cairngorms and Snowdonia.
The second-generation MCA SAR2G contract will see Bristow operating six new AW139s alongside existing AW189s and a fleet of Sikorsky S-92s, and adds two bases to cover the seasonally busy tasking areas around the Nevis Range and the Lake District, which will operate over the summer months. FW surveillance services will also be provided by Bristow via Schiebel Camcopter S-100 uncrewed air systems (UAS) as well as six Textron Aviation Beechcraft King Airs operated by 2Excel.
Although Bristow's client is the MCA, Bristow works closely with several public sector and voluntary agencies, including mountain and cave rescue teams, police and ambulance services, and the Royal National Lifeboat Institution. Winning the new contract "says a lot about the brand and the strength of our business", says Ebberson. "Our operational excellence sets us apart. What we have demonstrated operationally and the initiatives we have introduced have been clear differentiators."
Those initiatives will include the construction and introduction of a new helicopter rescue hoist and training centre at Solent Airport, due to be operational by early 2025. The facility will allow for a range of onboard skills to be taught including rescue from water, simulated cliff face, and restricted areas, as well as crew resource management. "We invest a lot of time into this," says Ebberson. "While every mission has a commander, each member of the crew has an input into how we effect the rescue." This new facility will complement pilot training ongoing in Bristow's simulator training facility in Aberdeen.
The introduction of UAS to Bristow's SAR operation – following a successful evaluation at its Caernarfon base that began in 2018, and further operational demonstrations over Snowdon – is another significant development. Bristow had been building its experience with UAS since 2016, but the Schiebel system adds a "game-changing" asset to its SAR capabilities, especially by providing situational awareness in the English Channel, but also potentially in mountain environments, says Ebberson.
"The S-100 has a significant operational pedigree. We knew it was a capable machine that gives our client exactly what they want," he says. "We are already integrating UAS into our manned operations, understanding the regulations and informing the regulator. We manage it as every other aircraft type, but we are unique in the UK in that we have an AOC [air operator certificate] that covers unmanned and manned rotary."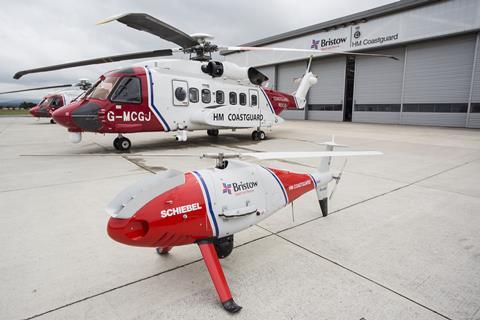 The success of the UK operation has opened the door for other outsourced government SAR contracts, most notably with Ireland and The Netherlands. The latter, which runs for 10 years, began in 2022, with Bristow operating AW189s on SAR services on behalf of the Netherlands Coastguard from bases at Den Helder and Midden Zeeland. The company was already a known name in the country, operating offshore energy transport services in the North Sea for many years.
Bristow's acquisition of British International Helicopter Services in August 2022 saw it extend its government operations to the Falklands, where it provides a range of vertical lift solutions, including passenger and freight transport as well as SAR, to the government and British Forces South Atlantic Islands with two AW189s and two S-92s. Bristow also supports Royal Navy operations in the UK with an Airbus Helicopters AS365. Since last year too, it has provided SAR and law enforcement support to the Dutch Caribbean Coast Guard in the Dutch Antilles.
A major move this year has been the confirmation of a €670 million ($737 million) 10-year SAR deal with the Republic of Ireland. Bristow will operate six AW189s across four bases – Dublin Weston, Sligo, Shannon, and Waterford – again working in partnership with fixed-wing specialist 2Excel. Bristow will take over from the incumbent operator in the fourth quarter of next year. "We are very proud to have been awarded the contract, and will work hard to deliver the service," says Ebberson.
Government services now account for around a third of Bristow's revenues. Earlier this year, the company re-organised, putting its Offshore Energy Services & Government Services divisions each under its own chief operating officer. Previously, Bristow had been managed under a geographical structure. "The continuing enhancement of our reputation [in government services] made it an easy and logical separation based on output rather than region," says Ebberson.
While both sides of the business operate similar equipment, there are key differences beyond the way helicopters are configured, he says. Government contracts tend to be longer than those with energy companies, typically five to 10 years. Clients are state agencies, rather than private enterprises. Crewing needs are certainly distinct. As well as highly qualified and skilled helicopter pilots, the government services side employs winch operators, paramedics, and clinicians.
The skills, commitment, and experience of these professionals, together with the modern equipment Bristow operates, "put clear water between ourselves and our competitors", insists Ebberson. With the new structure, he feels that Bristow can now push for government outsourcing opportunities beyond Europe and the Atlantic. "The benefit of not now being bound by region gives us the freedom to look at where our services can be developed," he says. "We have a global perspective."