This paid content has been provided by a third party and does not necessarily represent the views or opinion of FlightGlobal
Russia's new narrowbody jetliner, the Irkut MC-21-300, carried out its first international flight in autumn 2019. The aircraft was on display at the TEKNOFEST Aerospace and Technology Festival, held last September at Istanbul Ataturk Airport.
MC-21-300, registration number 73054, arrived in Istanbul equipped with a passenger cabin.
During the festival the airliner took part in the flight programme and was shown to potential customers who were able to assess the main advantages of MC-21, which are greater comfort options for passengers. It is no wonder, as the airliner has the widest fuselage in the class of single-aisle aircraft – 4.06m.
The plane showed off a layout with 18″ wide seats and a 22.5″ wide aisle in the economy class section, which allows for free passage of passengers and trolley service over the aisle.
"We met several representatives from Turkish airlines to which we are ready to offer MC-21. Besides, Turkey as an industrially developed country might be interested in co-production projects", said General Director of United Aircraft Corporation Yuri Slyusar.
Back from Turkey, the airliner resumed the certification test programme in which three test models are involved.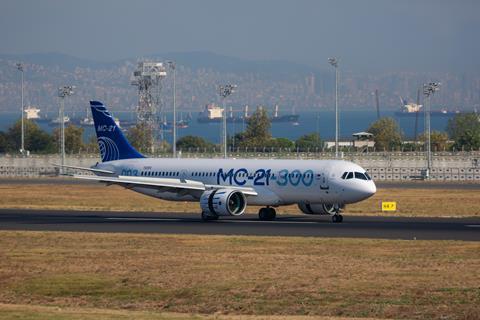 Up to now, the MC-21-300 has performed flights at altitudes and speeds that are typical for the main operating modes. The maximum values were achieved: altitude – 12,500m, M – 0.89, true speed – 949 km/h, and flight duration – 6.2 hours.
Flight and ground tests confirmed the correctness of the main design and technological solutions.
The test flights, carried out in compliance with the MC-21-300 certification programme, are performed with participation of EASA representatives.
Another test aircraft is scheduled to join the programme by the end of the year. It will have single cabin configuration with 211 seats. The seats are expected to be 18.5″ wide with 28″ and 29″ pitch in the front and aft parts of the cabin respectively. The aisle is designed to be 19.6″ wide.
Along with the ongoing tests, Irkut Corporation, as general contractor for the MC-21 programme, has launched production of the first airliners intended for delivery to customers.