Bombardier has been investing heavily in its customer service network, with new or expanded centres in London, Miami, Melbourne, Australia, and Singapore, plus a showpiece facility under construction in Abu Dhabi – targeted to open in 2025 – that will plug a crucial gap in the Middle East. The moves have significantly increased capacity and choice for customers when it comes to scheduled and unscheduled maintenance.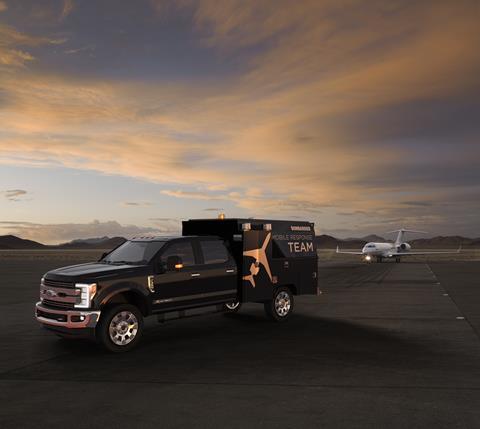 However, even business jets as reliable as Globals, Challengers and Learjets sometimes need unscheduled support – and that is where Bombardier's Mobile Response Teams (MRT) come in. Based at 34 locations in Europe, the USA, and other points around the world, they "serve our customers in their moment of most need", says vice-president, customer support Anthony Cox.
Although Bombardier operators have always been able to rely on AOG [aircraft on ground] or other short-notice support, this was traditionally largely provided by authorized service facilities, a group of approved MRO shops able to offer back-up in areas where Global, Challenger, and Learjet aircraft operated but Bombardier did not have an in-house presence.
However, under a strategy introduced in 2016, the airframer began establishing a network of satellite sites to support AOG teams at its service centres. It started with eight vehicles but quickly grew. Today, the service is a "way for us to control the customer experience at that moment of truth and reassure the customer we are committed to them and supporting them in their region," says Cox.
Equipped with a fleet of vehicles – and access to a network of aircraft, Bombardier's MRT team typically looks after customers within a 200-mile radius, although that can be slightly wider in territories where the installed fleet is thinner. In busy areas, several technicians will cover the region, working in shifts to offer 24/7 service.
Some work out of one of Bombardier's service centres. Others from an office in a convenient FBO. However, in all cases they are coordinated by Bombardier's Customer Response Centre (CRC) in Montreal – the first port of call for any operator that needs help, whether it is a tyre top-up, a change of batteries, or for an "aircraft that didn't wake up well and needs urgent support", says Cox.
Because Bombardier has an intimate knowledge of where its aircraft are at all times, it is easier to determine where mobile sites should be. It's just one more benefit open to customers – the ultimate value of the OEM. "We know the installed base, where customers typically park their aircraft, and their operational attributes," says Cox. "Layer in traffic data and you end up with hot spots. Our objective is to ensure we have MRT support in these hot spots."
Several years into the new strategy and "a huge investment in both infrastructure and human capital" later, Cox says he is "really happy" with progress. "From a customer engagement and satisfaction point of view, it has been amazing," he says. "Being in the right place at the right time with the right people is crucial to keeping our customer engaged. We have taken control of our own destiny."
Last year, the MRT network grew with new teams in Charlotte, Chattanooga, Hammond (next to Chicago), Fort Worth, Palm Beach, and Tulsa – a total of 11 additional technicians. In Europe, MRT crews in Geneva and Paris expanded with additional vehicles and 14 new staff. This took the total of trucks available to 21 in the USA, 11 in Europe and two in Dubai.
More expansion is in the cards for 2024 and beyond.