With the folding of its characteristic wing-tips while still rolling out on Boeing Field's runway 14R, the first 777X completed a maiden 3h 51min test flight.
The aircraft – which had departed Paine Field at 10:09 on 25 January – spent much of the first sortie operating at around 15,000ft just west of the Grand Coulee Dam.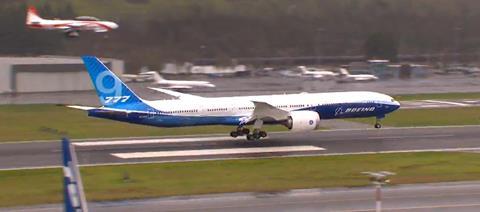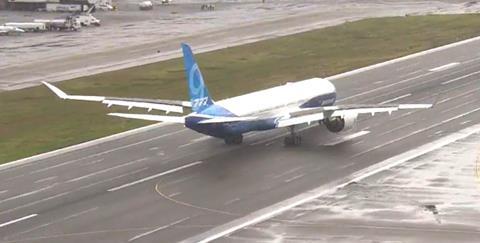 After contacting Boeing Field's tower, about 12min before landing, the 777X crew was advised that they were second in the landing pattern, according to air-ground communications archived by LiveATC.
The tower controller also informed the pilots of the presence of a helicopter west of the approach end to runway 14R, and asked about the flight pattern intention of the Lockheed T-33 chase aircraft which was accompanying the 777X on its right side – particularly given the poor weather.
Meteorological data from Boeing Field at the time of the approach showed variable winds and reduced visibility owing to mist. The 777X touched down at Boeing Field at about 14:00.