The Australian Transport Safety Bureau (ATSB) is investigating missed approach procedures for Sydney's runway 34R following an air proximity incident between two Qantas jets.
The incident occurred at 18:31 local time on 5 August 2019 and involved a departing Airbus A330-300 (VH-EBJ) and an arriving Boeing 737-800 (VH-VZO).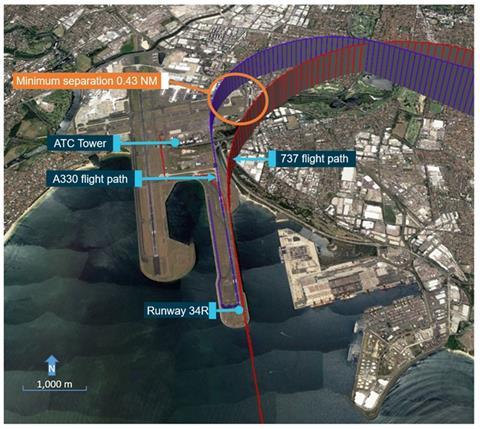 As the A330 lined up for take-off on a service to Melbourne, the 737 was on final approach. The A330, however, had to wait for a turboprop to clear the runway before commencing take-off.
"The [Sydney aerodrome controller east] assessed that there would be insufficient runway spacing between the aircraft and instructed the 737 flight crew to 'go around,'" says the ATSB's preliminary report.
"As the 737 flight crew conducted the missed approach, a loss of separation occurred between their aircraft and the departing A330. Flight data showed that separation between the aircraft reduced to about 0.43nm laterally and about 500ft vertically."
The controller, with both aircraft in sight, instructed the 737 crew to turn right, but the aircraft were converging and the A330 crew received an airborne collision avoidance system (ACAS) alert – 'TRAFFIC-TRAFFIC.'
"The A330 first officer, who was pilot flying, then saw the 737 in close proximity and, in response, reduced the aircraft's angle of bank to reduce the turn towards the 737," says the report.
"The captain of the A330 made a radio transmission to advise the ADC-E controller that it was 'very close'. The controller then issued an instruction to the A330 flight crew to turn left."
The A330 continued its journey without further incident, and the 737 landed on 34R after its second approach.
Following the incident, the ATSB is looking at a range of elements such as the design and risk assessment of missed approaches from runway 34R, air traffic control (ATC) procedures, operator procedures, the coding of flight management system navigation databases, as well as flight data and ATC recordings.
Qantas, for its part, issued a brief statement about the incident: "Our crew followed directions from air traffic control at all times. We're continuing to work with the ATSB on their ongoing investigation."