Czech investigators have detailed an incident involving an Embraer Legacy 600 executive jet which experienced a speed reduction and stick-shaker activation on descent to the Swiss city of Sion.
The aircraft had been operating a service from Bratislava on 19 July and conducting an instrument guided system approach to Sion's runway 25.
This IGS approach method differs from a regular ILS because – owing to the surrounding terrain – the final approach path is offset from the runway centreline by around 7°.
It requires the crew to follow a steep glidepath of 6° until reaching a point about 5nm from the runway, where the aircraft breaks to the left to follow a shallower visual glidepath of 3.5°.
The aircraft, which had intercepted the localiser at 17,000ft, travelled through a thin layer of cumulus cloud with anti-ice protection on, its landing-gear deployed and 22° of flap.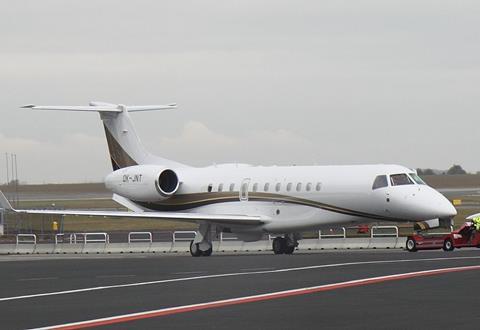 According to Czech investigation authority UZPLN's third-quarter bulletin, the crew had no radar indication or meteorological information of cumulonimbus activity.
The crew reduced thrust during the final approach and the jet's airspeed gradually declined from 167kt to 122kt.
"At the same time the pitch and angle-of-attack increased until the autopilot disengaged automatically and [the aircraft issued] emergency warning signals," says the bulletin.
"Despite the full-power setting, the speed reduction continued and there was a short activation of the stick-shaker."
UZPLN does not indicate the altitude of the occurrence. The stick-shaker activation was not captured on the aircraft's quick-access recorder.
Investigators state that the jet's descent along the glidepath enabled it to gain speed but, when the crew reduced power again, the aircraft's pitch increased, its speed fell to 121kt, and the angle-of-attack probably triggered the second stick-shaker for a second time.
The bulletin says the aircraft stabilised for the subsequent phase of flight and the crew continued the approach to land.
No conclusions have yet been released regarding the event. The aircraft involved (OK-JNT) is a 2009 aircraft, listed by Cirium fleets data as being operated by Czech company ABS Jets.