A Federal Aviation Administration analysis completed months before the second 737 Max crash found that the Max's flight control system, if unchanged, could cause 15 fatal accidents over the service life of the aircraft.
The US House Committee on Transportation and Infrastructure released a copy of the document (link below) on 11 December.
The FAA undertook the analysis, called a "Transport Aircraft Risk Assessment Methodology" (TARAM), in response to the first 737 Max crash, that of a Lion Air aircraft in October 2018.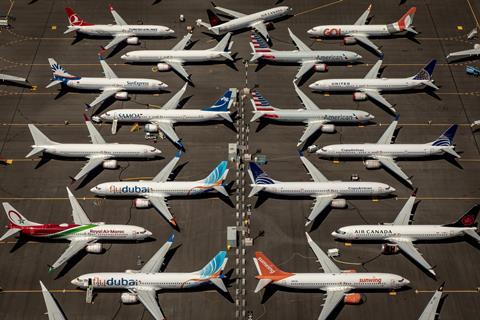 The agency responded to that crash with an airworthiness directive (AD) on 7 November 2018, and completed the TARAM on 3 December 2018.
It did not ground the Max until after the 10 March 2019 crash of an Ethiopian Airlines 737 Max 8. The two crashes killed 346 people.
"Shortly after the issuance of the airworthiness directive, the FAA performed an analysis that concluded that, if left uncorrected, the MCAS design flaw in the 737 Max could result in as many as 15 future fatal crashes over the life of the fleet," says the transportation committee in a 11 December media.
The report shows the FAA based its accident prediction on the estimate that 4,800 737 Max will fly over the aircraft programme's life.
The committee, which released the report the same day it held a 737 Max hearing, says the FAA's analysis assumed 1% of flight crews would not successfully comply with the FAA's AD.
The AD warned that faulty angle-of-attack (AOA) indicators could "make the horizontal stabilisers" pitch the aircraft's nose down. The order required airlines make pilots aware of trim recovery procedures, but made no mention of MCAS.
Investigations have determined that MCAS, a new system to the Max, caused both the Lion Air and Ethiopian aircraft to dive, seemingly due to faulty AOA data.
FAA administrator Steve Dickson, who took the FAA's helm in August, told CNBC on 11 December that the FAA performed the TARAM to help determine how quickly it should require Boeing to fix MCAS. Boeing has updated MCAS and is working toward FAA certification, which would lift the grounding.
Contacted by FlightGlobal, the FAA declines to comment specifically about the 3 December TARAM.
But, it says TARAMs are among "several safety tools regularly used by the FAA to analyse safety issues".
The agency's Corrective Action Review Board, which examines safety concerns, used other TARAM results to support its decision to issue the November 2018 AD, and an additional TARAM completed on 12 March supported the FAA's decision to ground the Max on 13 March, the FAA says.
Boeing did not comment about the December 2018 TARAM report.
But, it notes the FAA's Corrective Action Review Board considered the November AD and Boeing-issued guidance sufficient "until changes to the MCAS software could be implemented".
"Boeing's own TARAM analysis was consistent with the FAA's conclusions," the company adds. "The actions that Boeing and the FAA took, including the issuance of the Operations Manual Bulletin and airworthiness directive, and the timeline for implementing the MCAS enhancements, were fully consistent with the FAA's analysis and established process."
Supporting documents
Click link to download and view these files