Indonesia's National Transportation Safety Committee (NTSC) has opened an investigation into a tail-strike incident involving a Garuda Indonesia Boeing 737-800.
The aircraft (PK-GNM) was operating flight GA532 from Jakarta to Banjarmasin on 7 August when the incident occurred.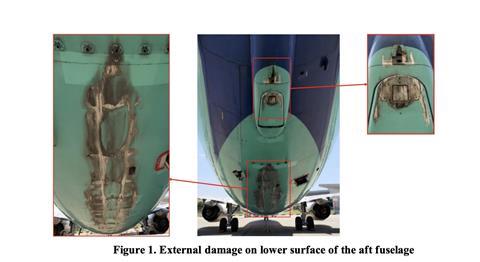 At around 14:40 local time, as the aircraft passed the runway threshold just before touching down Banjarmasin airport, the pilots noticed that Enhanced Ground Proximity Warning System alerts were sounding "faster than normal".
As the aircraft touched down it "bounced with high pitch", and the crew called for a go-around.
The tail-strike occurred as the aircraft rotated to perform the go-around. According to the NTSC, air traffic controllers at Banjarmasin's Syamsudin Noor airport saw "sparks on the runway" from the tail-strike, and called for an inspection after the aircraft took off.
The aircraft landed at the airport after checks found no objects on the runway.
Inspections revealed that the aircraft's aft-fuselage skin was scratched and its tail-skid damper was damaged. No injuries were reported among the 150 passengers and crew members.
Investigations are ongoing, says the NTSC, which did not indicate a timeline to conclude its probe.
Since the incident, Garuda has issued notices and safety bulletins to its employees about the causes of tail-strikes, and how to prevent them.
According to Cirium fleets data, the 737 was delivered to Garuda in August 2014. The aircraft, which is powered by two CFM International CFM56-7B26E turbofans, is owned and managed by Air Lease Corporation.