Investigators believe an unsecured cargo container on a West Atlantic ATR 72-200 freighter shifted rearwards during take-off, then forwards during landing, after floor locks were not engaged.
Despite the substantial shift of the centrally-loaded ULD container, the aircraft remained within forward and aft balance limits during its flight from Guernsey airport to Jersey, in the Channel Islands, on 16 April last year.
It had arrived at Guernsey from East Midlands fully-loaded, with each of the five cargo bays – designated C1 to C5, forward to aft – containing a ULD.
Two of these ULDs were unloaded and the three remaining ones were reconfigured to sit in bays C1, C3 and C5. Bays C2 and C4 were left empty.
Each ULD would normally be secured by floor locks forward and aft of the container.
But the ULD in C3 was not properly secured because the aft floor locks, designed to stop the container shifting backwards, were not raised into position beforehand. Only the locks to prevent forward movement were correctly engaged.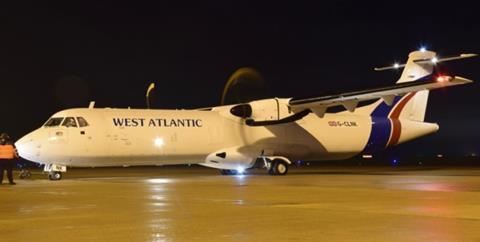 The ground-handling organisation was unable to determine how the ULD had stopped in the correct position without the rear locks acting as a barrier.
"It was considered that a combination of friction of the ULD as it was moved rearward on the rails, the visual cues of the green marker on the fuselage wall, and the forward locks becoming visible on the bay floor as the container moved over them probably resulted in the ULD being positioned so that the forward locks could be engaged without the rear locks being [raised]," says the UK Air Accidents Investigation Branch.
As the aircraft took off, the pilots heard a "slight thud", which they attributed to movement of water bottles in the cabin. But the inquiry believes they actually heard the ULD in C3 sliding backwards into the empty bay C4.
Neither crew member noticed any change to the feel or control of the aircraft during the short 15min flight to Jersey.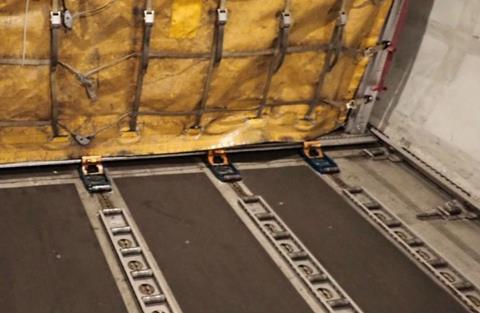 But when the aircraft touched down and decelerated, the pilots heard a sliding noise and a "loud thud" which was "felt throughout the airframe" as the ULD slid from bay C4, with sufficient force to break the forward locks in bay C3, continue through bay C2 and ram into the locks holding the ULD in bay C1.
While the loading rails and locks were damaged, the ULDs and the aircraft structure were not.
The ground-handling organisation carried out its own investigation and found that the loader "may have been distracted", but also determined that there was no requirement for an independent check of the locks as ULD were loaded.
It has since revised procedures to introduce such a check, while the aircraft operator has taken training steps to raise awareness of the risks of 'empty bay' operations.