US aviation accident investigators have subpoenaed an American Airlines flight crew involved in a near-miss at New York's John F Kennedy International airport last month after attempting to interview the individuals three times without success.
On 13 January, an American Airlines Boeing 777, operating as flight 106 to London-Heathrow, crossed an active runway just as a Delta Air Lines aircraft began a takeoff roll on the same runway. A tragedy was narrowly averted when controllers told the Delta pilots to abandon their take-off. The aircraft came to a stop shortly before the taxiway intersection.
Investigators for the National Transportation Safety Board (NTSB) said in a preliminary report released on 10 February that as part of their investigation to the runway incursion incident they had interviewed air traffic control personnel and took crew statements, all of which were recorded "to ensure the highest degree of accuracy, completeness, and efficiency".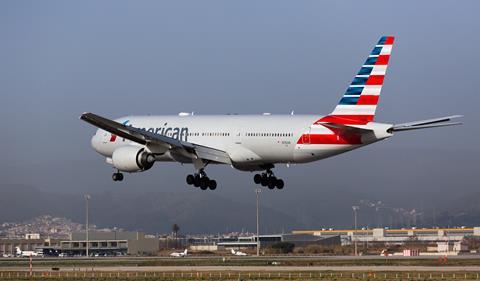 "In addition to the crew statements, NTSB attempted to interview the American Airlines flight crew three different times," NTSB writes in its report. "American Airlines cleared the flight crew's schedule to ensure their availability; however, the flight crew refused to be interviewed on the basis that their statements would be audio recorded for transcription."
"As a result of the flight crew's repeated unwillingness to proceed with a recorded interview, subpoenas for their testimony have been issued," the agency adds.
Recorder data from both aircraft had been secured, but cockpit voice recorder data had both been overwritten, NTSB says.
American Airlines, meantime, said on 10 February that it is "cooperating with the National Transportation Safety Board in its investigation of American Airlines flight 106". But its pilot union, Allied Pilots Association (APA), maintains that the flight deck crew will not speak to investigators if the discussions are to be recorded.
"The introduction of electronic recording devices into witness interviews is more likely to hinder the investigation process than it is to improve it," APA says.
"Not only may the recording of interviews lead to less candid responses from those witnesses who may choose to proceed under such requirements, but the existence and potential availability of interview recordings upon conclusion of an investigation will tend to lead many otherwise willing crew members to elect not to participate in interviews at all."
"We do not believe that this should be an adversarial issue," APA adds.
The runway incursion occurred when a Delta Boeing 737 with 159 people on board was cleared for take-off on the airport's runway 4-Left at about 20:45 local time, destined for Santo Domingo in the Dominican Republic. The American Airlines jet, with 149 occupants bound for London, began to cross the same runway, putting the two aircraft on a collision course. The Delta jet abruptly aborted its take-off roll, stopping about 152m (500ft) before the taxiway.
In its preliminary report, NTSB says the closest the two jets came was 426m. Inclement weather, it says, was not a factor.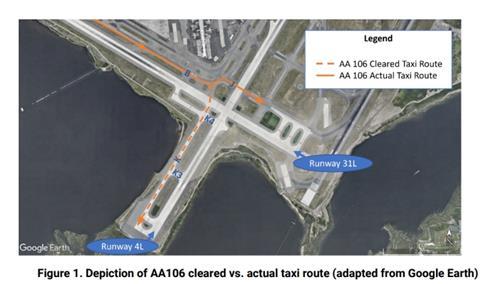 According to website LiveATC.net, which makes air traffic control recordings publicly accessible, controllers can be heard clearing the Delta jet to take off on the designated runway 4-Left. But shortly thereafter, one air traffic controller is heard saying, "Shit! Delta 1943 cancel take-off plans!" A Delta pilot is heard responding, "Rejecting".
The recording also suggests - and the NTSB confirms - that the American Airlines' flight crew appear to have misunderstood or misinterpreted air traffic control taxi instructions, taking the wrong route, and subsequently crossing the wrong runway. The controller had instructed the jet to cross runway 31, and not runway 4-Left.
The Delta jet returned to the terminal, where passengers de-planed. Delta conducted the flight to Santo Domingo the next morning. The American jet, however, took off for London the same evening.
It was the first of two recent runway incursion incidents in the USA that narrowly avoided tragedy. On 4 February, in Austin, Texas, a FedEx Boeing 767-300ER Freighter had been cleared to land on the same runway that a Southwest Airlines Boeing 737-700 had been cleared to depart from. The FedEx jet descended as low as 150ft over ground before breaking off its approach.