Grupo Aeromexico, the parent company of Mexico's legacy carrier, Aeromexico, reported a sharp decline in year-on-year revenue and a net loss for the third quarter as the coronavirus clipped the airline's operations and bankruptcy proceedings continue in a US court.
The Mexico-City-based carrier says on 20 October that quarterly revenue fell to 4.7 billion Mexican pesos ($212 million), a 75% drop from the same period a year ago.
The company's net loss for the period between July and September was 2.9 billion pesos, down from a profit of 65 million pesos in the third quarter of 2019. About 146 million pesos of that figure were exchange rate losses due to the depreciation of the Mexican peso.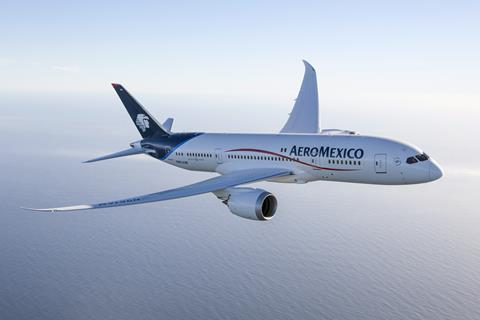 "The global airline industry continues facing unprecedented challenges due to substantial declines in demand for air transportation worldwide," the carrier says. "Aeromexico is committed to taking the necessary measures so it can operate effectively in this new landscape and be well prepared for a successful future, during and when the Covid-19 pandemic is behind it."
Even though the quarter's results were catastrophic, the airline says that it is beginning to see "encouraging signs of recovery".
"Aeromexico´s third quarter deployed capacity increased by 67.6% compared to second quarter 2020 with substantial improvements in the domestic market which increased by 182.1% when compared to the second quarter 2020," the airline says. "Countries are gradually reopening their borders to international travel, supported by enhanced Covid-19 testing and safety measures."
The domestic Mexican market showed a considerable bump, with capacity and load factors well up from their second quarter lows.
"By the end of the quarter, domestic capacity deployed represented approximately 65.4% of the domestic capacity deployed in third quarter 2019 with a recovery in domestic load factors from 69.3% in July to 75.4% at end of September," the airline says.
International routes remained hampered by ongoing travel restrictions in numerous countries serviced by the carrier. Industry analysts agree across the board that business on long-haul and international routes will take longer to recover than domestic, also due, in part, to continuing uncertainty about quarantine requirements at the destinations, or other health-related factors that may keep customers away.
During the quarter, the airline restarted flights to San Jose, Guatemala City, Lima, Medellin, Bogota and Buenos Aires and increased frequencies to Seoul, Santo Domingo, Paris, Quito, Sao Paulo, Miami and Sacramento.
Aeromexico says it ended the quarter with 101 operating aircraft as well as six 737 Max which have been grounded for more than 18 months now.
In June, Aeromexico filed for Chapter 11 Bankruptcy protection in a US court just days after it had publicly stated that it would not. The company said at the time that it would use the process to "strengthen its financial position and liquidity protect and preserve its operations and assets and implement necessary operational changes to address the impact of the ongoing Covid-19 pandemic".
It became the third Latin American carrier to seek protection from creditors after the coronavirus pandemic and the ensuing drop-off in passenger demand due to strict shelter-in-place orders across Latin America decimated the air transport industry during the first half of the year.
Chile's LATAM Airlines and Colombia's Avianca filed for bankruptcy in May after liquidity crises forced them to restructure debt.
Latin American governments generally have been slow to support their aviation industries, providing only meagre financial aid to their airlines. In addition, lockdowns and border closures created difficult conditions for airlines to operate at all during this time.
Last week, the Mexican airline also received final approval from the US bankruptcy court judge for a $1 billion debtor-in-possession (DIP) financing package.
The approval means the carrier will be able to access another $100 million from a first tranche – adding to the $100 million payment it has already received – and an initial $175 million from the second, $800-million tranche, once it has satisfied some remaining conditions. These two amounts will be paid in a single draw, the carrier said at the time. It will draw the remainder of the loan in minimum instalments of $100 million, after having met additional, undisclosed conditions and milestones.
In September, the court also agreed to the carrier's request to enter into temporary "payment by the hour" agreements with leasing companies covering the majority of its aircraft and spare engines. The agreements will allow Aeromexico to reduce its leasing costs and cash outflows resulting in "significant monthly savings", it says.