Delta Air Lines aims to reduce daily cash burn to zero by the end of the year as it begins to ramp up its schedule to accommodate a small uptick in demand after the global coronavirus pandemic decimated air travel several weeks ago.
Atlanta-based Delta's chief financial officer Paul Jacobson says the airline recently saw a slight rise in bookings, and on some days bookings have even outstripped cancellations – a positive sign that passengers may be returning to air travel.
That said, the airline will maintain a load factor cap of 60% and remain vigilant not to build up its schedule too quickly, since it is still unknown if a second wave of coronavirus infections may hit later in the year, and draw the industry into another downturn.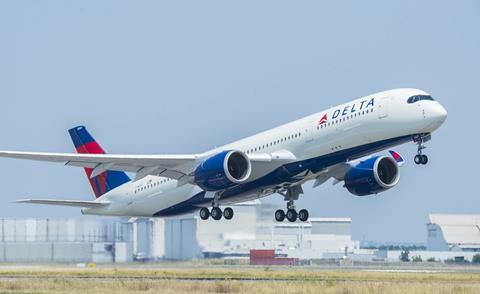 "We are cautious about people getting out and moving," Jacobson tells the Wolfe Transportation & Industrials Conference on 19 May. "I'd like to be optimistic, but … we can't afford to have false starts. We have seen a bounce off the bottom but my caution is not to draw too much in the way of conclusions on a data set [that] is not that conclusive."
Delta said on 18 May that it would reinstate more than 100 routes in June that it suspended as the coronavirus spread globally and passenger demand dropped sharply in late March. These include flights from Atlanta and New York, and between its hubs. In addition, Delta will begin service again to several cities in Canada, Latin America, Europe and Asia.
The airline's schedule in the second quarter remains significantly below that of the same quarter a year ago, Delta says, but the expansion shows the first signs that US aviation could be beginning a recovery. Delta says it is flying 85% less capacity than last year, with domestic capacity 80% lower and international capacity 90% lower than the 2019 figures.
Jacobson says net sales recently improved versus the airline's "conservative" forecast, and that it has seen some days of positive net sales, including an uptick of leisure bookings for domestic travel to beach destinations in June and July. "People are booking on the expectation and hope that things will get better," he adds.
On the carrier's quarterly call with analysts in April, Delta said that by the end of June it will have halved its daily cash burn from $100 million to $50 million. Now, it is giving itself until the end of the year to get that number to zero.
"Nobody really knows what it's going to look like from an operations perspective and a demand perspective," Jacobson says. "We are trying to navigate the best path we can to get break even cash flow by the end of 2020."
Jacobson added that Delta is committed to a 60% load factor cap in order to maintain social distancing and help passengers feel safe.
"We've got to keep those promises" to customers, he says. "This is how we build up the network to get back to normal."
Looking to 2021, Jacobson does not believe the airline can return to the load factors the major US carriers saw during 2019, saying it will take about five years for "things to get relatively back to normal". In 2021, he expects aircraft to be less than 75% full.
"I don't think when we turn the page in to 2021, absent a vaccine, there will be much of an appetite to get on a plane with 80 to 90% load factor," he says.
Last week, Delta said it will retire its 18-strong Boeing 777 fleet as it replaces the older aircraft with newer and more-fuel-efficient Airbus A350-900 jets, in an effort to streamline and simplify its fleet. In addition, it said it will accelerate retirements of McDonnell Douglas MD-88 and MD-90 aircraft this June.