Frontier Group Holdings struggled with soft third-quarter demand in its core markets and operational difficulties that company executives attribute to air traffic controller (ATC) shortages.
The parent of Denver-based ultra-low-cost carrier Frontier Airlines reported on 26 October that it lost $32 million during the third quarter, compared with a $31 million profit during the same period last year.
The carrier generated $883 million in revenue during the period, down 3% from $906 million last year. Meanwhile, expenses swelled to $937 million, up 10% from $850 million in the third quarter of 2022.
Rival ULCC Spirit Airlines also posted "disappointing" quarterly results amid price weakness in its core markets.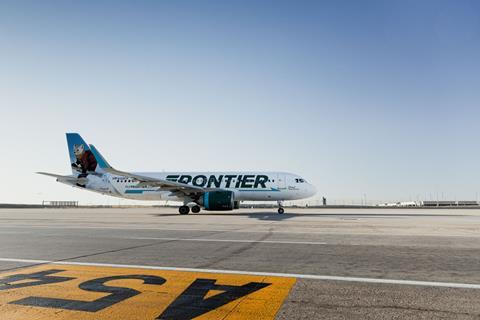 During a slowdown of domestic demand in August and September, Frontier struggled outside of peak periods of air travel. Fellow US carrier Alaska Airlines – which reported a third-quarter profit of $139 million – experienced similarly low demand during "shoulder periods".
"The peak periods continue to be more resilient," says Frontier's chief executive Barry Biffle. "What we're dealing with an overall slowdown of demand, and that is more acute in the off-peak periods."
That is part of why Biffle believes Frontier is due for "rebalancing of capacity"
"We're seeing kind of uneven deployment of capacity in the United States," he says. "There's a lot more capacity versus 2019 into Las Vegas, and a lot less in Minneapolis… We are probably more impacted by that unevenness than anybody else in the space."
However, he believes that demand for international travel will eventually dissipate to Frontier's benefit: "International is in vogue, but it's not going to last."
During the earnings call on 26 October, Frontier revealed that it is adopting the strategies of European low-cost carriers by focusing on simplified, out-and-back routes to mitigate the impacts of ATC-related disruptions.
The airline is also adjusting its strategy away from "over-saturated markets" by focusing future growth on underserved point-to-point routes.
"What we're seeing is that new growth in the over-saturated markets – using Las Vegas as an example – is not performing at levels that we're accustomed to," Biffle says. "It's not the growth that's the problem, it's the uneven deployment of capacity into a lot of our core markets in Las Vegas and certain Florida markets."
The ULCC took deliveries of eight Airbus A321neos during the three months ending 30 September. Nearly four in five Frontier jets are now next-generation Airbus narrowbodies. It currently has an 135-strong fleet and orders for an additional 214 next-generation A320-family aircraft to be delivered through 2029.
Thus far its fleet been spared from engine issues related to Pratt & Whitney's recall of PW1100G geared turbofan (GTF) engines due to disk problems, which has caused widespread fleet disruptions among A320 operators.
"We are unclear right now on the impact it will have on Frontier," says Daniel Shurz, the carrier's senior vice-president of commercial.
Since the carrier did not take delivery of aircraft with GTF engines until September 2022, the engines on Frontier's jets are not part of the production run currently needing inspection.
But the situation is "fluid", Shurz says.
"We do anticipate having to do some inspections toward the back end of 2024 and into 2025 and beyond," he notes.