LATAM Airlines Group posted another profitable quarter, driven by a strong rise in passenger revenue, after emerging from bankruptcy protection late last year.
The Santiago-based carrier said on 4 May that profit for the first three months of the year rose to $122 million, up from a $308 million loss during the same period in 2022.
"After a very important 2022 for LATAM, during which the group completed its financial restructuring and observed a significant growth in its operations following two very difficult years in the pandemic, LATAM has been able to start 2023 with strong results," says chief executive Roberto Alvo on the company's quarterly results call.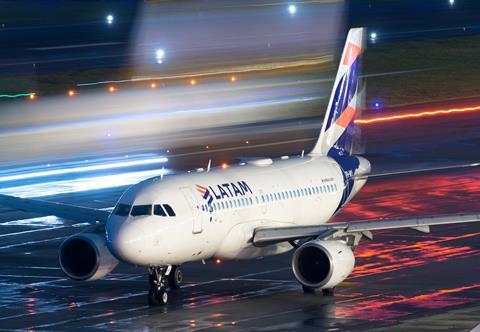 "It is important to remark that LATAM and its affiliated carriers have already recovered their entire network and that during 2023 the group will continue to inaugurate or reopen new routes such as Santiago - Melbourne and Bogotá - Orlando, in addition to LATAM Airlines Brazil re-establishing the iconic routes of Sao Paulo – Johannesburg."
Revenue for the quarter increased 43.2% compared to last year, to $2.81 billion. That figure was driven by a 61% increase in passenger revenue, which offset a 12.4% decline in cargo revenue, as a result of "softening cargo yields", LATAM says.
Expenses, however, also rose, up 24% to $2.54 million during the first quarter of 2023. That increase was primarily due to higher jet fuel prices.
But the company's management sees progress, as corporate demand has almost completely returned, with 98% of pre-pandemic business in this segment.
"As a result of the reorganization process, the group was able to increase its market share and presence in different markets where its affiliates operate, and the group intends to continue to do so as it keeps seeing and evaluating opportunities in the markets that result attractive in terms of profitability and cash generation," LATAM says.
COLOMBIA
LATAM, which had expressed interest in acquiring Colombia's now-defunct Viva Air before the country's civil aviation regulator approved Avianca's acquisition of the discount carrier, responded to the crisis in the northern Latin American country by beefing up its operation there.
"Significant changes have occurred in Colombia's domestic market during the start of the current year following the complete cessation of operations of two players pursuant to financial difficulties," the company says, referring to Viva Air and UItra Air. "As a result, LATAM Airlines Colombia adopted a proactive approach with a strong focus on protecting customers in order to ensure a smooth continuity of the Colombian air travel market."
"Our expectation is to be a very good, solid, reliable alternative for passengers in Colombia whether they fly domestic or international and it compliments our network very well," Alvo adds.
LATAM's Colombian affiliate "reacted quickly", bringing in five Airbus A320s and more than 200 employees to its domestic Colombian operations and reinforcing its Bogota operations.
"LATAM Airlines Colombia is still awaiting the regulator's resolution on slots and capacity distribution, but we are confident that this will bring new opportunities for continuous growth in the Colombian market," the airline adds.
LATAM transported almost 17 million passengers – more than any other airline in the region - during the three months that ended on 31 March, up 18% from the 14.4 million it transported in the first quarter last year.
The carrier currently operates a fleet of 307 aircraft, including 235 Airbus narrowbody aircraft, 55 Boeing widebody aircraft and 17 Boeing cargo freighters. It is planning to end the year with 323 aircraft.
Nine of its 767 passenger aircraft have been converted into freighters, with the remaining four conversions to take place in 2023 and 2024. In addition, LATAM has sold (pending delivery) two cargo freighters and expects to sell a third, thus estimating a total freighter fleet of 19 freighters in 2024.