US regional carrier Mesa Airlines continues to suffer from pilot attrition, leading it to a $42.8 million loss in the second quarter of fiscal year 2022.
That compares to a $5.7 million profit in the same quarter one year earlier, the Phoenix-based carrier says on 9 May.
"While demand for our product remains strong, our financial results this quarter reflect the ongoing challenge of heightened pilot attrition," says chief executive Jonathan Ornstein. "While not entirely unexpected, this quarter was clearly very disappointing."
The results compare unfavourably to one year earlier because the prior period's earnings were buoyed by coronavirus-driven government payroll support, Mesa says.
Mesa flies regional jets for United Airlines and American Airlines, and Boeing 737 Freighters for DHL.
The airline flew 65,613 block hours during the three months ending on 31 March, a 11.3% decrease from the same quarter last year, and 23.7% fewer than in December 2021.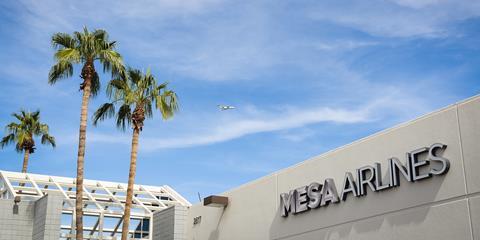 Revenue for the three months was $123 million, a 27% increase over the $97.3 million reported in the year-ago period.
"In January, our operational and financial performance was significantly impacted by Covid-related higher pilot absence rates, which have since subsided," Ornstein adds. "We remain focused on taking steps to address pilot attrition, including increased hiring, simulator capacity and training capabilities, which has been exacerbated by the industry-wide pilot shortage."
Smaller regional carriers like Mesa have suffered most from the dearth of qualified cockpit crew since Covid-19 caused a sudden disruption to the industry two years ago. About 6,000 mostly senior pilots retired early or took extended leaves, as airlines shed aircraft and slimmed down staff to deal with the slump.
Now, younger pilots are replacing them, with large carriers heavily recruiting from the regionals, which fly shorter routes with smaller aircraft, and which pay pilots less than do legacy carriers.
The result is a hole in regional carriers' human resource plans, Ornstein says.
"While we believe our attrition is in line with the rest of the regional industry, we are taking further steps to attract and retain qualified pilot candidates," he adds.
Ornstein has said the bottleneck is the Federal Aviation Administration's requirement that most commercial pilot candidates have at least 1,500 flight hours logged before flying airliners. That rule exists only in the USA, and makes it difficult and prohibitively expensive for candidates to train for pilot careers.
Ornstein calls these "ill-conceived, ill-advised and politically motivated government regulations that by most independent accounts have nothing to do with the enhancement of safety".
The shortage has led "dozens" of cities across the country to lose air service and has pushed fares higher, Ornstein says.
Mesa says that during the quarter, 47% of revenue came from contracts with United, 46% from American, 1% from DHL and 6% from leases of aircraft to a third party.
The carrier ended the quarter with 168 aircraft, one more than three months earlier. Mesa took delivery of another 737-400F to assist in its burgeoning freighter business. That business is a bright light for the company, executives say.
"We think that cargo over the longer haul will become more and more important to us," says Ornstein. "We would like to continue to grow it, we think there is opportunity."
"Having an exclusive arrangement with DHL long-term might be the best way to go," he adds. "They've been terrific partners, and putting energy into building that relationship would be a very valuable use of our time."