A partially crowdfunded Swiss airline named "FlyBair", to be headquartered in Switzerland's capital Bern, says that it has partnered with regional carrier Helvetic Airways ahead of beginning service to European vacation destinations from May 2020.
FlyBair made headlines last November when it launched a crowdfunding campaign to raise money for a carrier that would connect the Swiss capital to several holiday destinations in Spain, Italy and Greece during the peak summer travel season.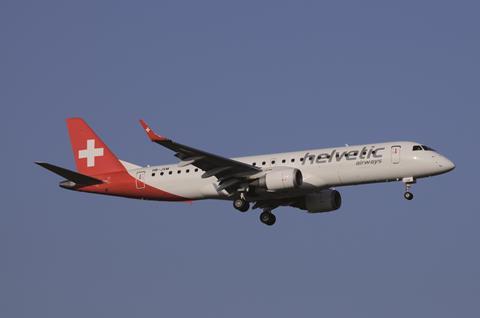 No commercial airlines serve the airport in the Swiss capital. Passengers must travel to the airports at Geneva, 93mi (150km) to the southwest, or Zurich, 75mi to the northeast, in order to reach any other destination by air.
"We have found a partner in Helvetic Airways that represents the Swiss values that FlyBair also embodies," Urs Ryf, a member of the company's board, says on 11 February. All FlyBair flights will be carried out by a Helvetic Airways' Embraer E190 aircraft, the new airline says.
In its November announcement, FlyBair called itself a "virtual airline", since from the beginning the idea was to partner with another organization to carry through its flights in order to keep costs low. Originally, it had tapped German Airways to play this role, but that deal fell through.
"German Airways let us and our operating partner Lion Air know that it was unable to honour the current contract with FlyBair so that we were forced to look for alternative solutions for our customers. We value Helvetic Airways as a reliable partner, which is well-versed in the particulars of Swiss regional airports," Ryf says.
The unconventional funding call last fall paid off. Within 30 days of the crowdfunding appeal, the airline generated more than 1 million Swiss Francs ($1.01 million) of its 2.5 million-franc target, mostly from small donors.
FlyBair says that 1,398 donors automatically became shareholders of the airline when it was recorded in the commercial register on 31 January. The largest shareholder is the Bern airport, with 15.3% of the shares.
Flybair says it will offer flights to Jerez, Crete, Kos, Mallorca, Menorca, Olbia, Preveza and Rhodes from Bern, as well as a Sion-to-Mallorca connection beginning in May. The airline adds that bookings so far are "above expectations".
"We have been received well by the regional market and have been able to establish ourselves as a tourism brand in a short period of time," says FlyBair chief executive José González.
FlyBair is not the first attempt to connect the Bern airport to destinations in Europe. In the past several years, numerous airline projects have tried to launch profitable service from Bern, but all have failed. Most recently, SkyWork Airlines ceased operations in August 2018, leaving 11,000 passengers stranded.