The chief executive of Scandinavian carrier SAS has questioned the narrative that demand for long-haul travel in particular will align with pre-Covid trends and assumptions, as he urged the industry to "get real" about the challenges ahead.
Speaking during the CAPA Airline Leader Summit today, Anko van der Werff said that while he is seeing a rebound in demand for travel as Covid-19 restrictions are removed, "it's not going to fly" for the industry "to just build back what we had, who we were".
Factors including greater airline debt coming out of the pandemic, rising inflation, higher fuel costs, the impacts of the Russia-Ukraine war on globalisation, and structural demand changes in long-haul connecting traffic – notably driven by an increased corporate focus on sustainability – all need to be taken into account when mapping out the industry's future, he suggests.
"I'm not fully convinced and I'm not sold yet on the future," van der Werff states. "We do have to change. We do have to get real about what is working for the industry."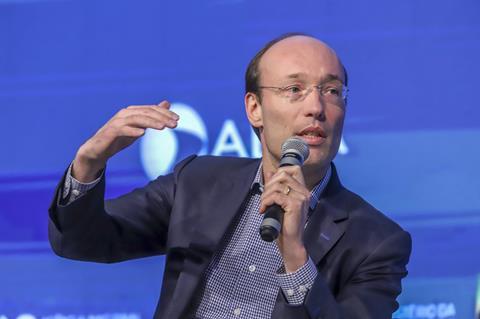 Loyalty programmes "and the value they can contribute" are a big part of offsetting those challenges, van der Werff says, in terms of strategic decisions within airline leaders' control.
But expanding on some of his concerns about the future, he notes of corporate travel that "I do feel, hear and see people really saying 'no, we're not going to travel as much as we did before'", because of the sustainability goals that are now fundamental to strategies at many Scandinavian businesses and beyond.
When it comes to the war in Ukraine, meanwhile, his view is that "overflying Russia is not going to be [resolved in] a matter of months – I really feel it's going to be longer, which I translate maybe into there being an impact on globalisation as we knew it."
That will combine with other factors to leave long-haul travel affected by "inflation, fuel and some dent of globalisation, definitely for the next few years", he suggests, adding: "And on short-haul, that is a completely different game, that is a cost game. I think we all have to compete much harder."
Van der Werff puts these challenges in the context of an industry that had its weaknesses going into the Covid-19 crisis.
"This industry as a whole has never really made any money [and] is reliant on governments left right and centre," he says. "And there are plenty of brands… that have never been profitable, and there is an issue with that in the long run, because the debts that we have taken on have to be repaid."
Part of the solution to that could be airline consolidation in Europe, but van der Werff notes that an opportunity may have been missed at the start of the pandemic.
"Without saying anything about any particular airline, if I had been the regulators in the European Commission, I would have done one thing differently: rather than forcing almost every country to chip in in 2020, I would have said 'work it out amongst yourselves', consolidate," he explains. "Right now, a lot money has been poured into airlines which actually blocks consolidation.
"I think that was the moment to do it."
He highlights consolidation in the USA as a positive example that Europe might wish to emulate, saying: "You cannot argue that it's been bad for economic growth or for consumer investments".
Van der Werff stresses that consolidation in Europe should be "very much around airlines taking a broader role for not just one particular government or country" – a concession that many governments have historically been reluctant to make.