Until 2020, Southwest Airlines had not posted an annual lost since 1972.
That 47-year streak is over.
The Dallas-based airline lost $3 billion in 2020, swinging far into negative territory after reporting a full-year profit in 2019 of $2.3 billion.
Southwest's fourth quarter 2020 loss came to $908 million, compared to a $514 million profit in the same period of 2019.
"The airline industry was hit especially hard in 2020, and we incurred our first annual net loss since 1972," says chief executive Gary Kelly on the company's quarterly earnings call on 28 January. "Travel and tourism industries face an ever-changing environment as the pandemic evolves."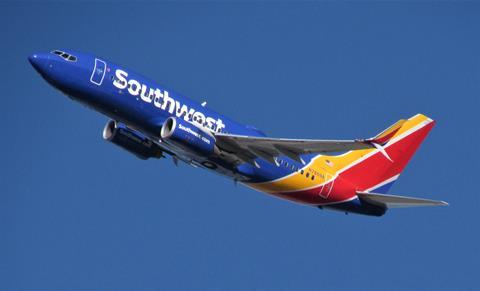 The low-cost carrier reported quarterly revenue of $2 billion, down 65% from the $5.7 billion it posted in the same period of 2019. For the full year, the airline had revenue of $9 billion, down from $22.4 billion in 2019.
"While vaccine availability should mark the beginning of the end of this pandemic, current passenger booking trends do not indicate significant improvement through March 2021," the airline says.
Average daily cash burn declined to $12 million in the last three months of the year, down from $16 million a quarter earlier. Southwest needs revenue to recover "to a range of 60-70% of 2019 levels, which is roughly double current levels" to achieve cash break-even, a goal executives hope to reach in 2021.
But airlines remain in defensive positions as travel restrictions remain in place. Rules change quickly, often leaving airlines scrambling.
A new coronavirus testing requirements for inbound passengers to the US, introduced earlier this week, was "sprung upon us quickly", says Southwest president Tom Nealon. The rule requires passengers in foreign countries to show proof of negative Covid-19 tests before boarding US-bound aircraft.
Southwest has seen more cancellations to non-US destinations as a result, it says.
FLEET
Southwest ended the year with 718 aircraft, including 41 of the recently re-certificated Boeing 737 Max. It took delivery of seven Max aircraft in December, and plans to re-introduce the type into its schedule from 11 March.
The Max will "expand the territory we can cover" and help Southwest regain profitability, Kelly says.
"Our rally cry for our people this year is win more customers and stop the bleeding," Kelly says. "It's an uncertain time that none of us have seen in our lives. We are prepared to manage and respond [to the uncertain demand environment] and we are determined to do it better than anybody else."