United Airlines says that it will involuntarily furlough 16,370 employees at the end of this month as the long-term effects of the coronavirus crisis continue to take its toll on the air transport industry.
But that number is about 55% less than the initial estimates and the number of employees who were warned in July that their jobs may be on the chopping block.
Officials at the Chicago-based airline say that the difference is due to a large number of employees who have chosen to take early exit or a variety of voluntary leave programmes. Nonetheless, that number was not high enough to avoid furloughs completely, the company says.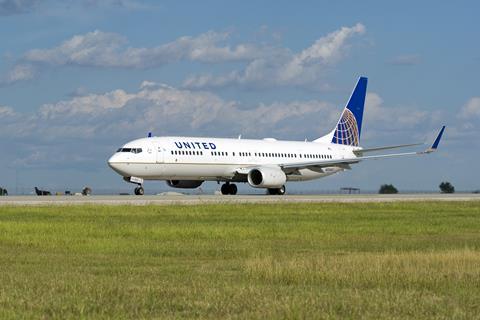 "Unfortunately, all of our efforts so far to cut costs, raise debt and introduce voluntary options have not been enough to avoid involuntary furloughs entirely," the company tells its employees in a internal memo on 2 September. "Today, each of our operations leaders communicated directly with their teams to share the heart-wrenching news that approximately 16,000 United employees will be notified of an involuntary furlough effective as early as October 1."
On 8 July, United sent out so-called WARN notices, a federal requirement when mass layoffs are imminent, to 36,000 employees telling them their roles may be in danger. Since that date, about 7,400 employees have decided to voluntarily leave the company completely, either through separation agreements or early retirements, the carrier says.
For all of the work groups, the actual furloughs, as the numbers stand curerntly, will be less than the number of WARN notices sent out in July.
| United Airlines Involuntary Furloughs by 1 October | | |
| --- | --- | --- |
| Work Group | Number to be furloughed | % reduction from WARN notices |
| Airport Operations | 2,260 | 67 |
| Catering Operations | 329 | 52 |
| Contact Centers | 430 | 68 |
| Flight Operations (Pilots)* | 2,850 | TBA |
| Inflight Services (Flight Attendants) | 6,920 | 54 |
| Management and Administrative | 1,400 | 53 |
| Network Operations Center | 180 | 11 |
| Technical Operations | 2,010 | 40 |
| | | |
| TOTAL | 16,370 | 55 |
* United Airlines is still in negotiations with its pilot union.
Of the total, the work groups which will be most affected are pilots and flight attendants. Currently about 2,850 pilot and 6,920 flight attendant roles will be eliminated. The company says that 450 pilots took advantage of the early retirement scheme it offered, and that it is still in negotiations with the union so a final number is still not yet available.
Pilot furloughs come with additional complexity over other work groups because of the extensive training requirements each pilot needs by law to maintain currency. In addition, should a pilot be shifted from one aircraft type to different type, he or she must complete a certain number of hours of initial training, and maintain currency with regular recurrent training afterwards. So when pilots are furloughed, bringing them back is often more difficult than with other work groups, officials say.
PAYROLL SUPPORT EXTENSION?
Many US airlines and their unions have pushed lawmakers to pass an extension of the payroll support programme that so far helped keep airlines afloat after the coronavirus brought air transport to a near-standstill earlier this year.
The US government set aside about $58 billion in grants and loans for the industry as part of the $2 trillion CARES Act, as long as no involuntary furloughs took place until the end of September. That deadline is fast approaching and passenger demand has not rebounded enough to allow the carriers to operate as they had prior to the global pandemic.
"To be clear, an extension would be the one thing that would prevent involuntary furloughs on October 1 and hopefully delay any potential impact on employees until early 2021," the airline says in the memo to its workers.
United says it would be open to an extension of the programme with similar conditions. "That is a deal that we would readily and happily accept," says one official who asked not to be named.
The airline also says that during the month of September it will be flying about 63% of capacity that it had in the same month a year ago. That's up from the lows in April and May, but is still dragging on the company's bottom line. United has said it does not expect normalisation of operations and widespread travel demand to return until a vaccine is widely available.