Intended to carry passengers on short city hops, electric vertical take-off and landing (eVTOL) aircraft are likely to have interiors that are comfortable and functional rather than luxurious and laden with latest technology. However, if the visions of urban air mobility (UAM) evangelists prove true – and thousands of these platforms are crisscrossing urban skies by the decade's end – the sector will represent a considerable opportunity for cabin equipment suppliers.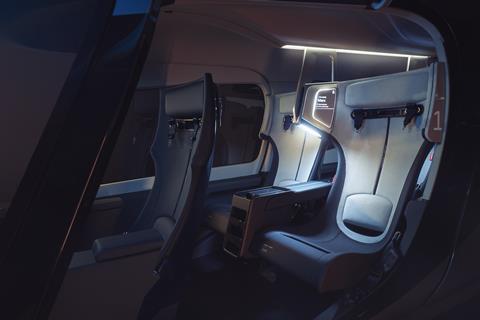 A handful of developers have given some insights into their thinking and at least one – Germany's Lilium – has announced the names of two suppliers it intends working with. Diehl Aviation announced last July that it will "collaborate on the design and development of the Lilium Jet cabin, as well as acting as integrator and manufacturer for interior components". Meanwhile, Lilium also last year selected Paris-based Expliseat to design and build the aircraft's crew and passenger seats.
For Wisk, the Boeing-backed, Silicon Valley-based start-up, customer studies have been crucial in shaping the passenger cabin on its in-development eVTOL platform, director of product design Uri Tzarnotsky tells FlightGlobal. As an example, he cites what happened when members of the public were shown two cabin concepts – one with four seats facing inward, often called campfire or party seating, and the other a conventional two-by-two layout with all passengers facing forward.
"In the studio, where we are all co-workers and friends, there was a strong preference for campfire seating," he says. "However, when we put four strangers in those mock-ups, as would be the case in a real-world scenario of ridesharing, we realised how grave a mistake that direction would have been. People were averting their eyes, displaying nervous body language, pulling their feet in tight, and struggling to get comfortable in a cabin with poorly defined boundaries of personal space."
Julien Montousse, vice-president of design and innovation at fellow US developer Archer Aviation, says comfort will be at the core of its Midnight cabin, creating a passenger experience that is "alluring, seductive and emotional". However, do not get the impression of a flying limousine. "We're not going to have a Louis Vuitton- or Cadillac-inspired interior," he says. "We are much more the kind of brand like North Face – a performance brand made of very good materials."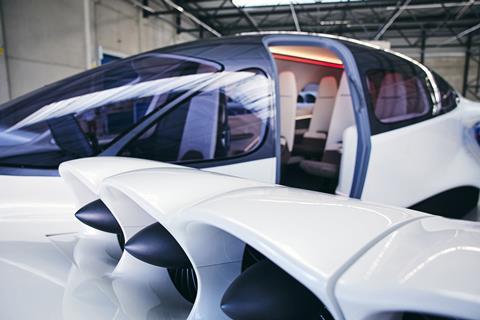 However, as is the case for all aircraft designers, functionality and aesthetics will battle with weight and cost when it comes to every aspect of an eVTOL's interior, often forcing tricky compromises. Montousse gives the window as an example. "Windows are much heavier than composite. We had to work really hard with engineering to have them agree to have big side windows so that when you sit you can see almost straight down, and you can really engage with the city," he says.
For aircraft designers, beginning with a blank slate is exciting. However, that comes with challenges, as there are many more decisions to make. "In a way, it's a lot more inspiring to start from a clean sheet, but it's a lot harder because every single feature is questioned," he says. "Like, do you need cupholders? We can't just include something for the sake of it. We have to ask what the value is, what is the function?"
When it comes to seats, the imperative to be as light as possible has forced a search for alternative materials. There is another factor too. "We think it's important for customers to feel at one with the seat, and that they are consuming a product that's eco-friendly," he says. That has driven Archer to seek out recycled and environmentally friendlier options, such as using flax, rather than plastic, for seat backs and a synthetic fabric made from recycled plastic bottles for the coverings.
However, there are not always simple solutions in the quest to be more efficient and sustainable, and Montousse concedes there may be a long wait to achieve some of Archer's environmental targets. "Some of the materials are extremely lightweight, but they may not be as durable as we want," he admits. "We're just scratching the surface in terms of the kind of eco-friendly material that can be incorporated into the plane."
Embraer-backed Eve, one of the longest established players in an emerging sector, unveiled a "fifth generation" concept interior for its under-development 54nm (100km)-range eVTOL aircraft at last year's Farnborough air show. The mock-up revealed a single pilot seat with four passenger seats – two facing forward and two rearward, split by a double armrest. The seats and interior fittings use many natural materials such as cotton and cork, according to the Brazil-based company.
According to Wisk's Tzarnotsky, "sanctuary" has been the "overarching theme" in designing the latest Gen 6 version of its eVTOL platform. "We looked at a lot of design languages from modern and high-tech to colourful and friendly in the interest of establishing a welcoming and inclusive environment in the cabin," he says. "Santuary was ultimately the one that allowed for focus and productivity as well as rest and relaxation."
Wisk will use certificated helicopter seats, but is working with its unnamed seat vendor to "ensure it aligns with expectations regarding comfort and styling that reinforces our design language". Passengers will enjoy wi-fi, personal device charging, and air conditioning, with the cabin designed to reach a set point temperature within a minute of the door closing. Additionally, says Tzarnotsky, passengers will be able to control airflow from their personal vent, as they do on an airliner.
However, one of the trickiest decisions Tzarnotsky and his colleagues had to make was also over the windows, and not just because of the trade-off with cost and weight. "Flight at lower altitudes is not something people get to experience very often," he says. "We struck a good balance between having large panoramic windows to provide an exceptional field of view, without compromising the sense of safety and security in the cabin."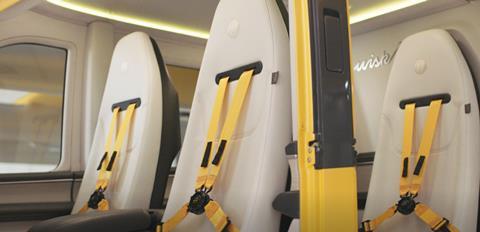 Diehl – which has also been working with rival eVTOL developer Volocopter on its interior design – will provide an extensive work package for the Lilium Jet cabin, including providing ceiling and floor panels, walls and partitions, and the luggage compartment. The German interiors specialist will also supply the lighting system and air conditioning ducts, the latter manufactured from lightweight composites such as foam granulates.
Expliseat is a young company known for its lightweight airliner seats that replace traditional aluminium with carbonfibre and titanium, and maintains the product it is designing for Lilium will be "one of the first serially produced eVTOL seats". Martin Schuebel, Lilium's senior vice-president, procurement, says "Expliseat's expertise with lightweight and durable materials" will help the developer reach its weight and distance targets "while ensuring a premium passenger experience".
Expliseat chief executive Amaury Barberot explains how the companies ended up working together. "Lilium wanted to design a platform that did not look like a helicopter, so they did not want a standard helicopter seat, but it still had to meet all the same safety requirements, such as the downward crash test," he says. "We told them our background is in commercial so you will not get a traditional helicopter seat, but that we also make the lightest seat in the airline sector."
The French company has built a prototype seat that has already "passed several development milestones", including a crucial crash test, says Baberot. He reveals that other eVTOL developers have approached Expliseat, but "because everyone wants their own seat, we have decided to limit our discussions to and focus on around five that we think have the best chances to succeed". However, Baberot insists: "It's a market we are betting on."
At least 10 start-ups have concepts in advanced stages of development. For technical, commercial or financial reasons, not all will make the finishing line. However, if even the most conservative market estimates are right, the industry will be building more than 1,000 UAM platforms each year by 2030. For Archer's Montousse, the sector presents one of the most exciting opportunities for interiors suppliers in a long time. "I want designers to see eVTOL as the next frontier of creativity," he says.