Airbus admits it had 26 aircraft still awaiting engines at the end of the first half, a tailback caused by supply-chain issues in the aerospace sector.
But chief executive Guillaume Faury is confident that this backlog will diminish to zero by the end of the year.
Speaking during a first-half results briefing on 27 July, Faury said that – based on recovery plans from suppliers – the airframer would be "back to 'zero gliders'", and that he hoped to transition from 2022 to 2023 "with enough engines".
He says he believes the build-up is "close to the peak" and that he does not expect the number of engineless aircraft to rise "significantly" but rather decline "progressively" over the next few months.
Airbus is ramping-up A320neo production from a stabilised monthly figure of 40 aircraft last year to 65, as a stepping-stone to a target rate of 75.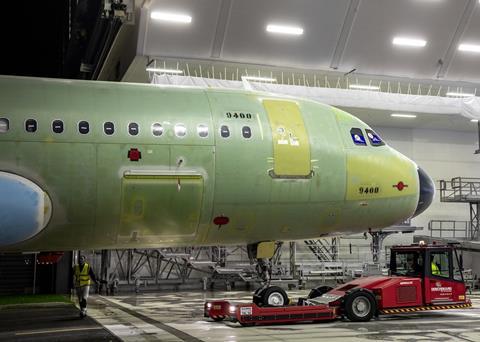 But it has pushed back the schedule for achieving 65-per-month to early 2024 because, says Faury, an assessment of the ramp-up trajectory showed it was taking more time than expected.
Faury insist there was "no specific event" that triggered the slowing of the production-rate rise, rather that it results from the overall complexity of the situation and follows a "deep and fair assessment of what is likely to happen in months to come".
"The fact we have 'gliders' shows we're capable of more – but we need the parts and the engines," he says.
Chief financial officer Dominik Asam adds that there are aircraft which are "quasi-finished", in that they are not simply engineless but awaiting other components affected by supply-chain problems.
Faury also acknowledges that the supply-chain issues are not only affecting the airframers but also the provision of spare parts to airline customers, stating that resolving the situation is "going to take time".