Ampaire has selected Electric Power Systems (EPS) to supply the battery pack for the US start-up's Eco Caravan programme – a hybrid-electric conversion of the best-selling Cessna turboprop.
First flight of the converted nine-passenger aircraft is due by year-end, with ground power tests already completed.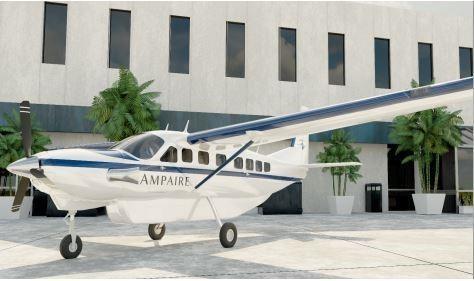 Ampaire is hoping to secure US supplemental type certification for the Eco Caravan modification in 2024.
Under an exclusive arrangement, EPS will supply its EPiC energy storage system, which contains cells boasting energy density of over 200Wh/kg at pack level. It should also provide over 2,000 fast-charge cycles before a replacement is required given typical usage rates.
EPS has previously supplied a prototype of its EPiC system to Ampaire for its Cessna Skymaster-based Electric EEL testbed.
"We are working closely with fellow innovators to bring a new level of efficiency and low emissions to aviation," says Ampaire founder and chief executive Kevin Noertker. "EPS has distinguished itself in tailoring its battery technology to our needs with a near-term certifiable solution."
Germany's RED Aircraft is to supply its AO3 compression ignition engine to Ampaire for the combustion element of the parallel-hybrid propulsion system.

Dominic Perry is deputy editor of Flight International but also contributes extensively to flightglobal.com. Although specialising in the coverage of the helicopter industry, he has written on most topics in aerospace – be they commercial, defence or business aviation. In addition, there has been an increasing focus on the decarbonisation of the industry and zero-emission flight initiatives.