China's Ameco is to undertake Airbus A330 passenger-to-freighter (A330P2F) conversions, becoming the programme's first third party conversion provider in Asia.
In a statement on 8 November, the MRO provider says it will induct the first A330 in 2023, with conversion works to be done at its Chengdu facility.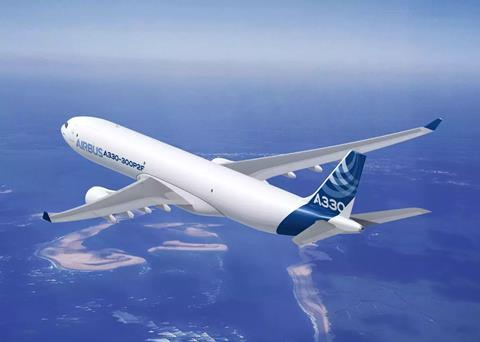 Ameco and conversion specialist EFW signed a collaboration agreement at the start of Airshow China 2022 held in Zhuhai. It is the second MRO provider to undertake A330P2F conversions, after Turkish Technic.
Ameco chief Lun Chen says: "Conversions have always been a strategic product of Ameco. This cooperation will expand the P2F market and provide better service to our customers."
Adds Jordi Boto, CEO of EFW: "The partnership will support the strategy in positioning our freighter conversion programmes as a solution of choice as well as cementing our strong presence in China, which is one of the largest and fastest growing aviation markets in the world."
EFW, a joint venture between Airbus and ST Engineering, first launhed its A330P2F programme a decade ago. Its A330 conversion programme covers both the -200 and -300 variants of the twinjet.
Among the customers signing up for the modifications are DHL, MNG Airlines, ATSG, EgyptAir, CDB Aviation, Qantas and MasAir.
Ameco's announcement comes as fellow Chinese MRO provider GAMECO completes work on the country's first 767 Boeing Converted Freighter.
The Guangzhou-based company has five Boeing conversion lines: two for 767s, and three for 737-800s.