EmbraerX, the Brazilian airframer's innovation subsidiary, has jointly developed a new concept of operations for air taxis in Australia with civil air navigation services provider Airservices Australia.
EmbraerX's electric vertical take-off and landing (eVTOL) project Eve Urban Air Mobility Solutions will helm the partnership, which will look at "new and practical concepts to safely facilitate the introduction of the air taxi industry".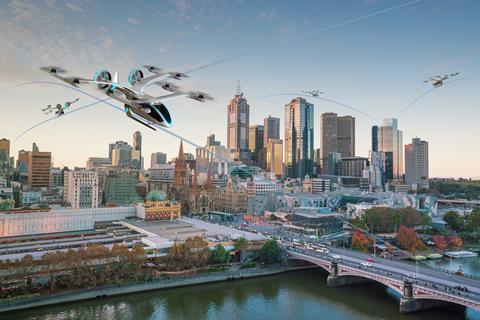 "Using the City of Melbourne, Australia, as a model, the concept of operations examines how existing air traffic management solutions can initially enable [urban air mobility] operations while simultaneously preparing for scale of operations through new traffic management technologies," states EmbraerX.
The project will also tap into Airservices Australia's expertise in airspace management and simulation technology to demonstrate how air taxis can be integrated into the "highly complex" Melbourne airspace.
The announcement comes on the back of Canberra publishing a discussion paper exploring the challenges and opportunities of increased adoption of drones and eVTOL aircraft.
In the area of urban air mobility, the report notes that cheaper, more efficient eVTOL aircraft will greatly reduce costs, creating a viable transport alternative for both urban and rural residents.
It adds that the large-scale introduction of eVTOL operations will also come with its challenges, including maintaining the safety of the aviation system, security issues, as well as allowing supporting infrastructure.
EmbraerX launched Eve in October, after four years of incubation. The project aims to develop urban air mobility aircraft to ferry passengers on short-haul flights between cities and suburbs, taking off from predetermined landing pads.