Despite the industry-wide upheavals caused by the coronavirus pandemic, SriLankan Engineering is hopeful of its chances to grow overseas, more than five years since its last foreign venture.
Shevantha Weerasekera is the head of engineering at flag carrier SriLankan Airlines. He tells FlightGlobal that the unit is "ready to ride the wave again" and open up line maintenance stations overseas.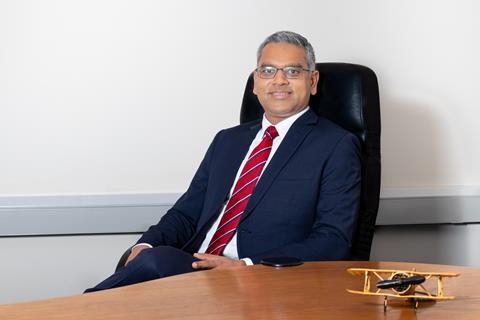 Weerasekera adds that if market conditions turn for the better in the second of the year, the unit hopes to open at least three more stations in South Asia.
The company had six to eight line maintenance stations overseas up until 2015, but these were subsequently closed "due to commercial reasons".
"But now the markets have changed…the competition has changed. The network frequencies have also changed, which makes it viable for us to explore either completely new line stations or to go back to some of the line stations that we used to do business with in the past," he tells FlightGlobal, but did not disclose where these locations could be.
The ability for the unit to expand regionally will also hinge on an air travel recovery, something Weerasekera acknowledges will be beyond the airline's control. Should things pick up by the second half of the year, the unit will explore growing its reach in the region.
SriLankan Engineering also hopes to increase its share of third-party airline customers for base maintenance. It used to count Indian low-cost carriers IndiGo and GoAir as customers in the mid-2010s.
However, an increase in heavy maintenance requirements for SriLankan Airlines - a byproduct of expansion - meant that the available maintenance slots meant for third-party customers were limited, so the unit settled for IndiGo as its sole long-term customer, servicing more than 200 aircraft over a 10-year period.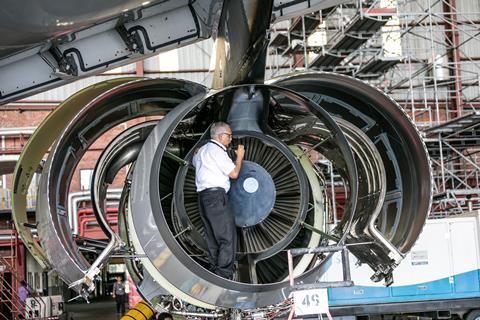 The contract with the low-cost carrier ended around a year ago, and SriLankan Engineering found itself with a dedicated heavy maintenance line that was freed up.
It began speaking with operators in the region, and soon signed Maldivian as its next third-party customer.
The Male-based carrier has an Airbus A320 and an A321 in its fleet, alongside de Havilland turboprops.
The coronavirus pandemic, while it has acutely affected SriLankan Airlines, has also brought an area of opportunity for the MRO: in the area of freighter conversions.
Around April to June last year, as countries across the world imposed travel curbs and MRO work began drying up, SriLankan Engineering realised there was growing demand in cargo.
By May, it was already modifying an A330-300 into a temporary freighter, by removing seats to allow for pallets to be carried in the passenger cabin.
It also modified a number of A320s and A330-200s to allow for cargo to carried on the passenger seats.
Says Weerasekera: "So [this will allow] our cargo team and the network team [to] have a nice selection in their toolbox when they start selling for cargo routes."
He discloses that paperwork for the modification of a second A330-300 into a temporary freighter has been completed, which allows the airline to be able to "push the button on the aircraft, the moment we feel that there is demand".
It was SriLankan Engineering's first time performing temporary freighter modifications, but Weerasekera is quick to add: "This was never an option in most maintenance MRO's domain before Covid-19."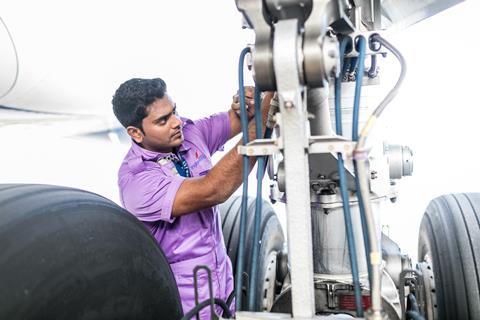 On competition, Weerasekera is acutely aware that the South Asian MRO sector is a hotly contested market. India, for instance, has in recent years made policy shifts and has invested in growing its aerospace and MRO sectors.
Weerasekera says there is "mutual respect" and that SriLankan Engineering aims for more cooperation than competition.
"We've always been working with the MROs in Singapore in Hong Kong and different partners…they've always supported us. [We] have gone to Indonesia, to Singapore, for painting and it has never been [about] competition for us. It's been mutual respect, and everybody playing together to support the customer base for us," he tells FlightGlobal.
As for competition from Indian MROs, Weerasekera says he welcomed India's push to open up the MRO market: "We are very supportive of all this because competition is good. Load balancing is good for everybody."
Still, he touts the fact that SriLankan Engineering is an "established player" in the market, having more than 30 years of operations under its belt.
"Sri Lanka has a continuous flow of high talent [and] resources coming into the labour market," he adds.
As with MROs elsewhere, Weerasekera points out that the coronavirus pandemic, as well as the uncertainty surrounding recovery, poses a challenge to SriLankan Engineering's strategy.
"There might be ad hoc border closures, there might be restrictions… in the volume of traffic to certain destinations, [so] we need to be ready to play with it right," he adds.
Border closures have also led to supply chain issues, especially with delays in procuring parts and components needed for MRO works.
The company has used the downtime to retrain its staff and to rethink its maintenance procedures and strategy, says Weerasekera.
"Everybody's gotten leaner [and] smarter, and we're ready to tackle this new wave of maintenance that's going to come to us in 2021, and also to cater to the third party business," he adds.