Signs have emerged of a shift in the effort to resolve the long-running transatlantic civil aircraft subsidies dispute, after the US and UK governments agreed to suspend tariffs for four months.
The measure follows the UK's unilateral suspension of tariffs at the beginning of January.
Both sides have since jointly decided to implement a four-month suspension – effective from 4 March – to "ease the burden on industry", the two governments state, adding that the intention is to take a "bold" step towards resolving the Airbus-Boeing dispute.
"This will allow time to focus on negotiating a balanced settlement to the disputes, and begin seriously addressing the challenges posed by new entrants to the civil aviation market from non-market economies, such as China," they add.
The tariffs, authorised by the World Trade Organization, not only affect Airbus and Boeing imports directly, but also a broad range of other industries.
Suspension will benefit these industries and "allow for focused settlement negotiations" in an effort to end the spat, which has endured for 17 years.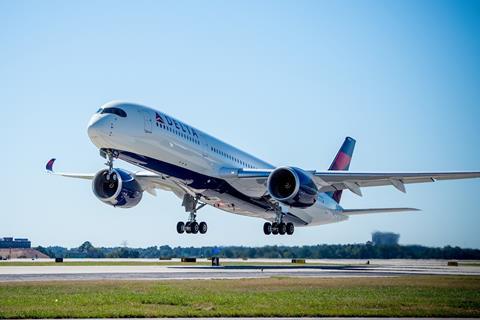 The UK claims its earlier lifting of tariffs was intended to "de-escalate" the situation and "create space" for talks.
But the UK's suspension had been the subject of contention, not only because it was one-sided but also because the US government had argued that the move was less about seeking a resolution and more about the UK's no longer having a legal grounds to maintain tariffs, because it had withdrawn completely from the European Union on 1 January.
Airbus has long argued that a negotiated settlement is necessary to end the dispute, chief executive Guillaume Faury reiterating this point at the airframer's recent full-year results briefing on 18 February.
"We welcome US Trade Representative's decision to suspend tariffs for allowing negotiations to take place," says Airbus in response to the new measure.
"Airbus supports all necessary actions to create a level playing-field and continues to support a negotiated settlement of this long-standing dispute to avoid lose-lose tariffs."
Boeing is similarly encouraged by the agreement. "We commend this action by the US and UK governments creating an opportunity for serious negotiations to resolve the WTO aircraft dispute," it says. "A negotiated settlement will allow the industry to move forward with a genuinely global level playing-field for aviation."
The US suspension affects tariffs on direct exports from the UK, such as whisky, cheese, clothing and meat products.
If the hiatus leads to a broader settlement of the Airbus-Boeing dispute, the UK government says it will benefit the country's aerospace industry as well. "The government reserves the right to re-impose tariffs at any point if satisfactory progress towards an agreeable settlement is not made," it adds.