Airbus expects the range of its A350-1000 to increase by around 180nm following a hike in the twinjet's maximum take-off weight.
The airframer is raising the take-off weight to 322t – an increase of 3t – and says this will stretch the aircraft's range to some 8,900nm at maximum passenger payload.
Airbus's previous heaviest version of the A350-1000 was the 319t weight variant known as WV006.
This version had been pitched successfully to Qantas for the carrier's 'Project Sunrise' initiative to offer non-stop services to eastern Australia from London and New York.
Qantas has 12 A350-1000s on order from the manufacturer.
Airbus says the higher-weight 322t aircraft potentially offers greater flexibility on long-haul routes.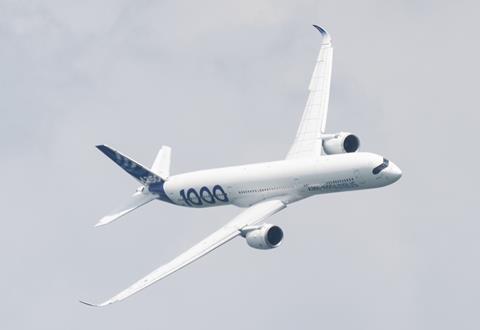 Middle Eastern carrier Emirates had been an early customer for the A350-1000 before Airbus redesigned the aircraft in 2011, to the Gulf airline's displeasure – despite the revamp's raising the original maximum take-off weight from 298t to 308t.
But Emirates has since warmed to the A350 and placed orders for 50 of the -900 as part of a fleet rejig following Airbus's decision in 2019 to close the A380 programme.
While Emirates has not yet revisited the -1000, the Dubai-based carrier indicated earlier this year that it was fleet-planning for the replacement of A380s and Boeing 777-300ERs.
The airline is looking at A350s and 777-9s, as well as 787s, to meet its capacity requirements and an improved A350-1000 performance could help lure the carrier back to the twinjet.
Airbus is also developing a freighter version of the A350 which will largely be based on the -1000's structure.
It has previously listed the A350F's maximum take-off weight as 319t – the same as the -1000 passenger aircraft before the MTOW hike – and given a payload capability of 109t.
Airbus has yet to disclose the extent to which the 322t variant of the -1000 will influence the performance of the A350F.