Emirates is planning to order more widebody jets as it looks to growth and replacement of its Airbus A380s and Boeing 777-300ERs in the next decade.
Speaking at a briefing during the IATA AGM in Istanbul on 6 June, Emirates president Tim Clark said the A350, 777-9 and "possibly" the 787 were under consideration.
"If you look at the number of aircraft that are due for retirement you will get some kind of measure of what we need to do, over and above what we already have," Clark says of the potential order size.
"We are looking at plans to take us through the [2030s]."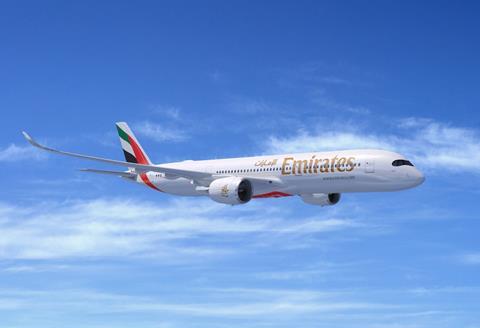 Crucially, Clark notes, that means sourcing aircraft to replace Emirates' A380s and 777-300ERs, with the former set to be phased out beginning in 2032-2033.
"We took a decision to retrofit over 140 aircraft but they have finite lives," he says of those older types.
"And we've got a lot of expansion plans… in all parts of the world," Clark says, highlighting the A350's ability to open up routes that were too small for the 777-300ER.
Those expansion plans could see the combined Emirates and Flydubai networks reach 250 cities by the end of the decade, Clark suggests.
"It's huge… we've just got to populate the assets to make it work for us," he says.
And while he does not specify how many aircraft might be ordered – "it could be 100, it could be 150, it could be 80, it could be something else" – he is clear on one thing: "It doesn't stop there."
Emirates is due to receive its first A350-900s next year, while Clark expects the first 777-9 to be delivered in the last quarter of 2025 – both from existing orders.
On the future of Emirates' existing 787 order, he says that is "under discussion" with Boeing.