Middle Eastern operator Emirates Group has turned in a first-half net profit of just over Dhs10 billion ($2.7 billion), with carrier Emirates contributing Dhs9.4 billion to the total.
The group says the figure, to 30 September, is a record for its interim performance and it adds that it expects customer demand over the second half of the year to "remain healthy".
Emirates Group generated revenues of Dhs67.3 billion during the six months, up 20% on the previous year.
"We are seeing the fruition of our plans to return stronger and better from the dark days of the pandemic," says group chief Sheikh Ahmed bin Saeed Al-Maktoum, although he adds that the company is maintaining a "close watch" on rising fuel prices, inflation, and the geopolitical situation.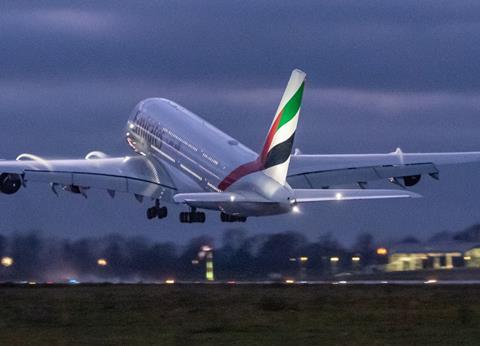 Emirates has demonstrated its recovery by building its operational Airbus A380 fleet to 104 aircraft, while its entire complement of Boeing 777-300ERs is in service.
The carrier has restored A380 operations to several destinations – including Bali, Beijing, Birmingham, Casablanca, Nice, Shanghai and Taiwan – over the first half of the year.
It has also completed refurbishment of 10 A380s with new cabin interiors including premium-economy seating.
The premium-economy product has been deployed on several routes, among them New York JFK, Houston, San Francisco, Los Angeles and Singapore.
Emirates was able to hike passenger capacity by 30% over the first half, while still recording a three-point increase in passenger load factor to 81.5%.
The airline's freight division, SkyCargo, also achieved an increase in shipping volume of 11% to just over 1 million tonnes.
Emirates operating costs rose by 9% over the six-month period, although fuel expenditure accounted for a slightly lower proportion, 34%, of the total.