Passenger throughput at Beijing's newest airport, Daxing International, hit the 10 million mark on 22 September, nearly a year since the facility commenced operations.
The airport, which opened late September last year, adds that it expects total passenger throughput by the end of the year to be around 16 million passengers.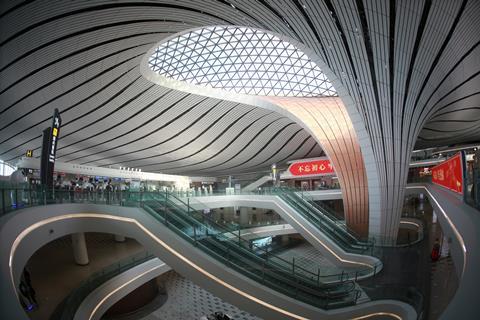 The news comes amid the backdrop of the coronavirus outbreak, which originated in China, but has since been by brought under control by the Chinese government. It also comes as domestic air travel in China is seeing a post-pandemic recovery, with carriers offering steep discounts to stimulate travel demand.
Daxing airport began operations on 25 September last year, five days ahead of its scheduled opening date.
Spanning more than 1 million sq m (10.8m sq ft) with four runways, it is dubbed the world's largest single-terminal airport building. Fully operational, it is expected to handle more than 70 million passengers a year, with targets to increase that to 100 million a year.
The Civil Aviation Administration of China (CAAC) notes that the number of flights a day now at Daxing is in excess of 660, with the number of passengers a day more than 92,000.
The airport sees 18 Chinese carriers operating from it, including China Southern Airlines, which is using the airport as its Beijing hub. International carriers that are operating out of Daxing include Finnair, British Airways, as well as Royal Brunei Airlines.
CAAC data indicates that Daxing is connected to 129 domestic points across the country. Guangzhou, also a China Southern hub, now stands as the most popular route from the new airport, with average daily passenger volume close to 10,000, says the CAAC.