Boom Supersonic's Overture aircraft will be powered by a new propulsion system developed by Florida Turbine Technologies (FTT), GE Additive and StandardAero.
The engine, called 'Symphony', will be a new, bespoke design, developed especially for the company's supersonic jet, Boom said on 13 December.
"Developing a supersonic engine specifically for Overture offers by far the best value proposition for our customers," says chief executive Blake Scholl.
"Through the Symphony programme, we can provide our customers with an economically and environmentally sustainable supersonic airplane – a combination unattainable with the current constraints of derivative engines and industry norms."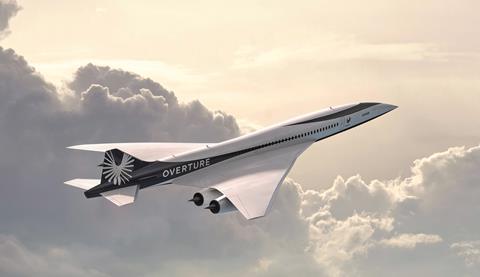 The Colorado-based company says that Symphony will be a twin-spool, medium-bypass turbofan engine, similar to conventional aircraft engines, with no afterburner, and have 35,000lb (156kN) of thrust at take-off.
It will be the first engine to be built to run on 100% sustainable aviation fuel, Scholl says.
"Unlike subsonic turbofans, this new propulsion system will include a Boom-designed axisymmetric supersonic intake, a variable-geometry low-noise exhaust nozzle, and a passively cooled high-pressure turbine," the company adds.
Boom says the engine, which will propel Overture to Mach 1.7 – about twice the speed of conventional aircraft – will be compliant with FAA and EASA Part 33 requirements.
FTT, a business unit of Kratos Defense & Security Solutions, will be responsible for engine design, GE Additive for "additive technology design consulting" and StandardAero for maintenance.
The engine announcement comes after four major aircraft engine suppliers – Rolls-Royce, GE Aviation, Honeywell and Safran Aircraft Engines – declined to engage with the start-up, saying the venture of developing a new engine for the supersonic market was too risky.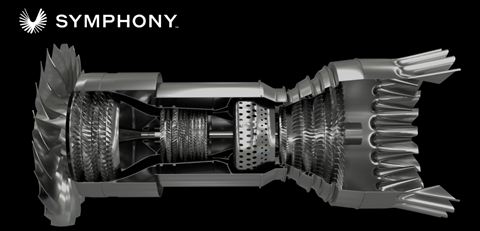 Despite numerous questions about the viability of the project, Scholl has pointed to commitments from customers including American Airlines and United Airlines as proof the company's goals are realistic.
In June 2021, United said it had signed a "commercial agreement" – including a deposit for an undisclosed amount – to buy 15 Overtures contingent on "demanding safety, operating and sustainability requirements", with an option for 35 more.
Then in August, American said it too had paid a "non-refundable deposit" – it also did not say how much – as part of an agreement to buy up to 20 of the jets, with an option for 40 more. Virgin Atlantic and Japan Airlines also have pre-order agreements with Boom.
At the Farnborough air show in July 2022, the company presented a new aircraft design, showing a longer wingspan and a more contoured fuselage, and with four engines rather than the previously planned two. Still, Scholl insists Overture will be environmentally compatible, offsetting the craft's carbon output by burning sustainable fuel.
The design of the Symphony engine is already underway, Scholl adds, maintaining Overture is on track to receive type certification by 2029. The company plans to begin production of the aircraft in Greensboro, North Carolina in 2024, with a first flight currently scheduled for 2027.
Boom's other partners include Safran Landing Systems, Collins Aerospace, fuel-system company Eaton and Northrop Grumman, which is helping with a military variant.