The Australian Transport Safety Bureau (ATSB) has identified oxidation — and subsequent deterioration — of the protective coating around parts of a GE Aviation CF6 engine's low‑pressure turbine as the cause of aerofoil failure, leading to an inflight engine shutdown.
Releasing its final report into the June 2018 incident, which involved a Qantas Airbus A330-300, investigators say the coating on the LPT's stage 4 nozzle guide vane segment deteriorated, causing cracks to form and the an aerofoil to fail.
"The liberated aerofoil impacted downstream rotating components, resulting in a loss of turbine blade material, rotor imbalance and subsequent airframe vibration," the report states.
The Qantas A330, registered VH-QPI, had taken off from Sydney, en route to Bangkok, when the incident occured.
Shortly after take off, a 'pop' sound was heard from the right engine, followed by light airframe vibration. Investigators also note that the rotational speed of the right CF6-80E1 engine slowed down thereafter.
The flight crew discontinued the aircraft's climb, and reduced the right engine thrust to idle. However, while the vibrations reduced slightly, the frequency remained relatively high and only stopped when the flight crew elected to shut the engine down.
The aircraft, which was carrying 297 passengers and 13 crew members, returned to Sydney and landed without incident.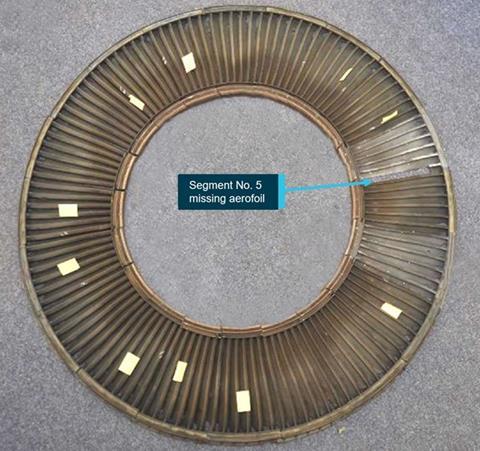 "Initial inspection by engineering staff revealed visible damage to the right engine low-pressure turbine, and engine debris generated impact damage to the aircraft's wing flap lower surfaces and body fairings," states the ATSB.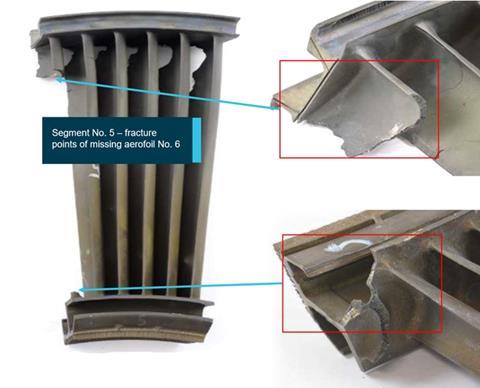 Following the incident, Qantas began a borescope inspection programme to identify other engine segments that might have evidence of cracking. There were at least five engines with aerofoil cracking that warranted engine removal, the ATSB notes.
Qantas also stipulated that all nozzle guide vane segments that had cracks had to be replaced, and that only new — not overhauled — segments were to be installed.
GE, on its part, changed the type of protective coating used — from chromide to vapour-phased aluminide — to reduce oxidation.
GE also found that some of Qantas' CF6 stage 4 nozzle guide vanes had higher levels of deterioration compared to other operators.
"[GE] attributed this to engine thrust settings, reporting that [Qantas'] aircraft spent relatively more time at high thrust, operated at heavier weights, and spent more time in the take-off and climb segments. The manufacturer concluded that the operator's engine duty cycle likely exposed the low-pressure turbine components to higher temperatures and stress," states the ATSB report.